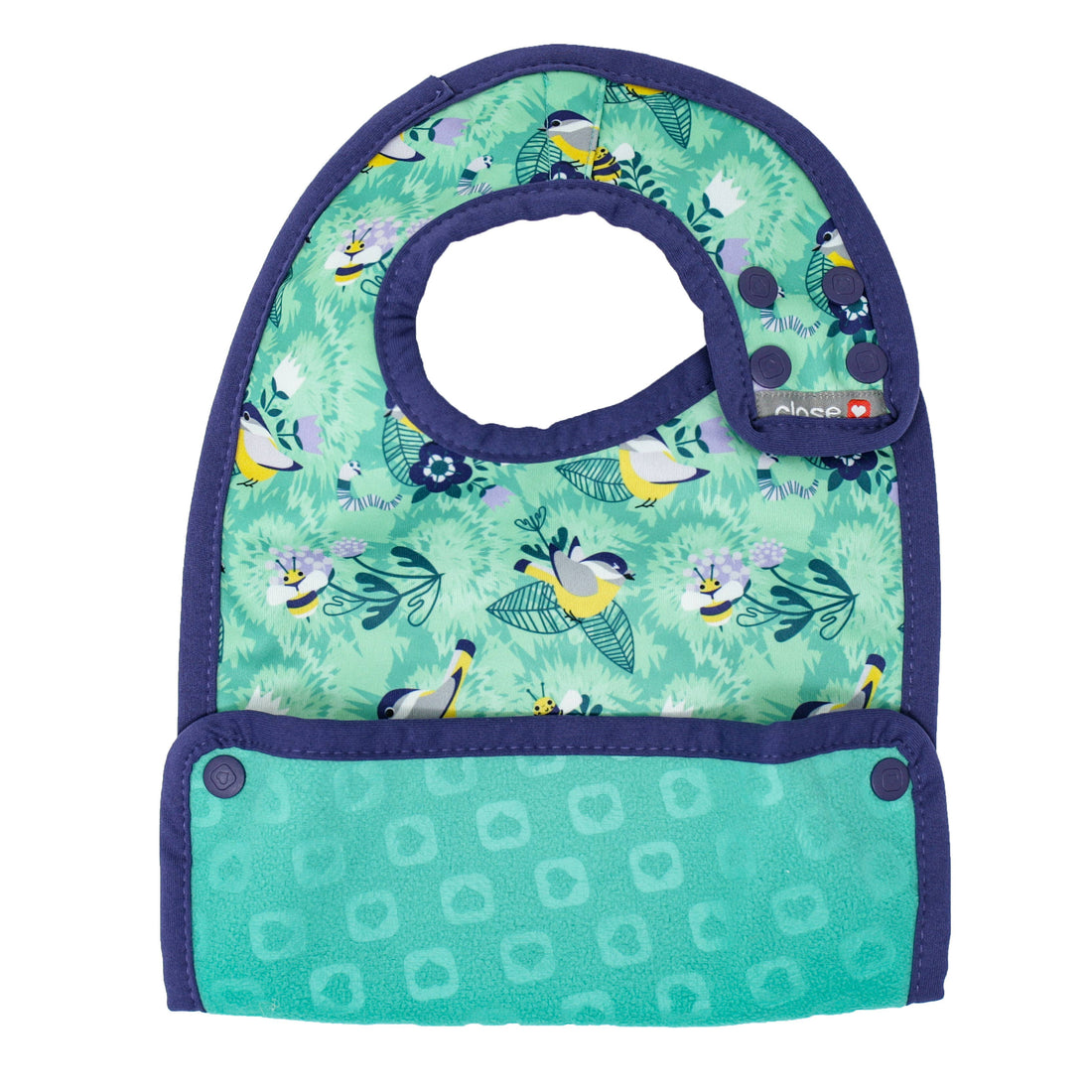 Double-Sided Weaning Bib With Crumb Catcher - Around the Garden
Introducing the Double-Sided Weaning Bib With Crumb Catcher - Around the Garden, a delightful solution for your baby's messy mealtime adventures! Our ingeniously designed Pop-in stage 2 bib is here to transform your weaning journey into a seamless, stylish experience.

Crafted with care, this bib boasts an array of features that set it apart. The adjustable neck fastening, coupled with two convenient popper size settings, ensures a secure fit that your little one can't wriggle out of, no matter how determined those tiny hands might be. Say goodbye to mealtime messes on your baby's clothes!

One side of the bib showcases an enchanting pattern that not only captures your baby's attention but also repels stains like a charm. Wipe away spills and dribbles effortlessly, maintaining a pristine look throughout mealtime. On the flip side, a plush and gentle fleece awaits, ready to soak up every adorable droplet that escapes your baby's lips.

But there's more to this bib than meets the eye. Sandwiched between these layers of comfort is a powerful waterproof barrier, your secret ally in the battle against soggy outfits. Whether you prefer the patterned side or the fleece side facing out, rest assured that your baby's attire remains dry and protected.

Are crumbs causing chaos? Fret not! Our bib comes to the rescue with a brilliant crumb catcher feature. Fold the flap upwards or snap it to the back for an all-encompassing, pelican-style pocket that corrals those runaway crumbs, keeping your floor cleaner and your sanity intact.

The Around the Garden bib isn't just a marvel of design; it's a testament to eco-consciousness. Crafted from 100% recycled polyester, its 3-ply laminate features a TPU membrane for ultimate durability. When cleaning time arrives, a simple wipe or rinse by hand tackles light stains, while a 40-degree machine wash takes care of heartier messes. Please note, avoid using biological detergents, bleach, or fabric softeners to preserve its quality.

Embark on the next stage of your baby's culinary journey with confidence and style. Elevate mealtime to an artful experience with the Double-Sided Weaning Bib With Crumb Catcher - Around the Garden. Let spills and splatters become a thing of the past while your little one explores the world of flavors, all wrapped up in a bib that's as charming as it is practical.