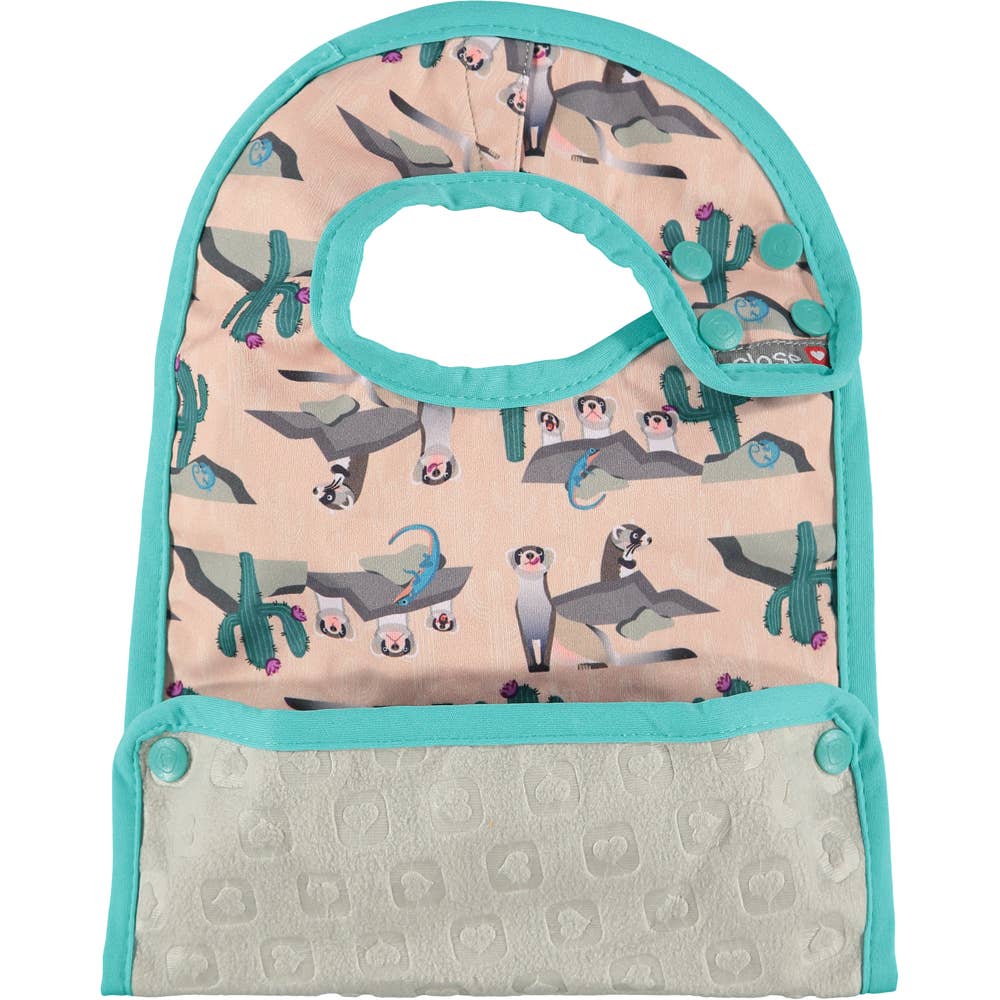 Double-Sided Weaning Bib With Crumb Catcher - Ferret
Introducing the Double-Sided Weaning Bib With Crumb Catcher - Ferret, your partner in culinary adventures for your little one! Our ingenious Pop-in stage 2 baby bib is designed to make those early weaning moments a breeze, all while adding a touch of whimsical charm to mealtime.

The magic begins with an adjustable neck fastening and two popper size settings that make donning the bib a cinch, yet turn it into a puzzle for curious little hands to remove. Say hello to mess-free mealtimes as your tiny explorer stays comfortably adorned in this cleverly crafted bib.

On one side, a delightful pattern dances across the fabric, not only captivating your child's attention but also serving as a formidable guardian against stains. With a quick wipe, spills vanish, and the bib remains ready for more gastronomic discoveries. On the flip side, a plush fleecy embrace awaits, ever so eager to snuggle up and absorb those charming dribbles that accompany every bite.

But there's more to this bib than meets the eye – a hidden layer of waterproofing nestles between the fabric, a safeguard against dampness that ensures your baby's adorable outfit stays dry and shielded, no matter how you choose to style it.

The pièce de résistance? The crumb catcher, a true game-changer. Simply fold the flap upwards or secure it at the back for a complete, pelican-style pocket that effortlessly corrals runaway crumbs. Watch in awe as mealtime messiness is elegantly tamed!

Convenience meets conscientiousness with the Double-Sided Weaning Bib With Crumb Catcher - Ferret. Crafted from 100% recycled polyester, its 3-ply laminate flaunts a TPU membrane and a cozy polyester fleece, blending durability and comfort seamlessly. Maintaining its pristine condition is a breeze – a gentle wipe or a hand rinse for minor stains, while a machine wash at 40 degrees takes care of bigger messes. Remember, avoid biological detergents, bleach, or fabric softeners to ensure its longevity.

Embark on a delightful weaning journey with the Double-Sided Weaning Bib With Crumb Catcher - Ferret. Let mealtimes be a symphony of exploration, flavor, and a sprinkle of messiness, all contained within a bib that's as enchanting as it is practical. Elevate your baby's dining experience while ensuring those adorable outfits stay picture-perfect, bite after bite.