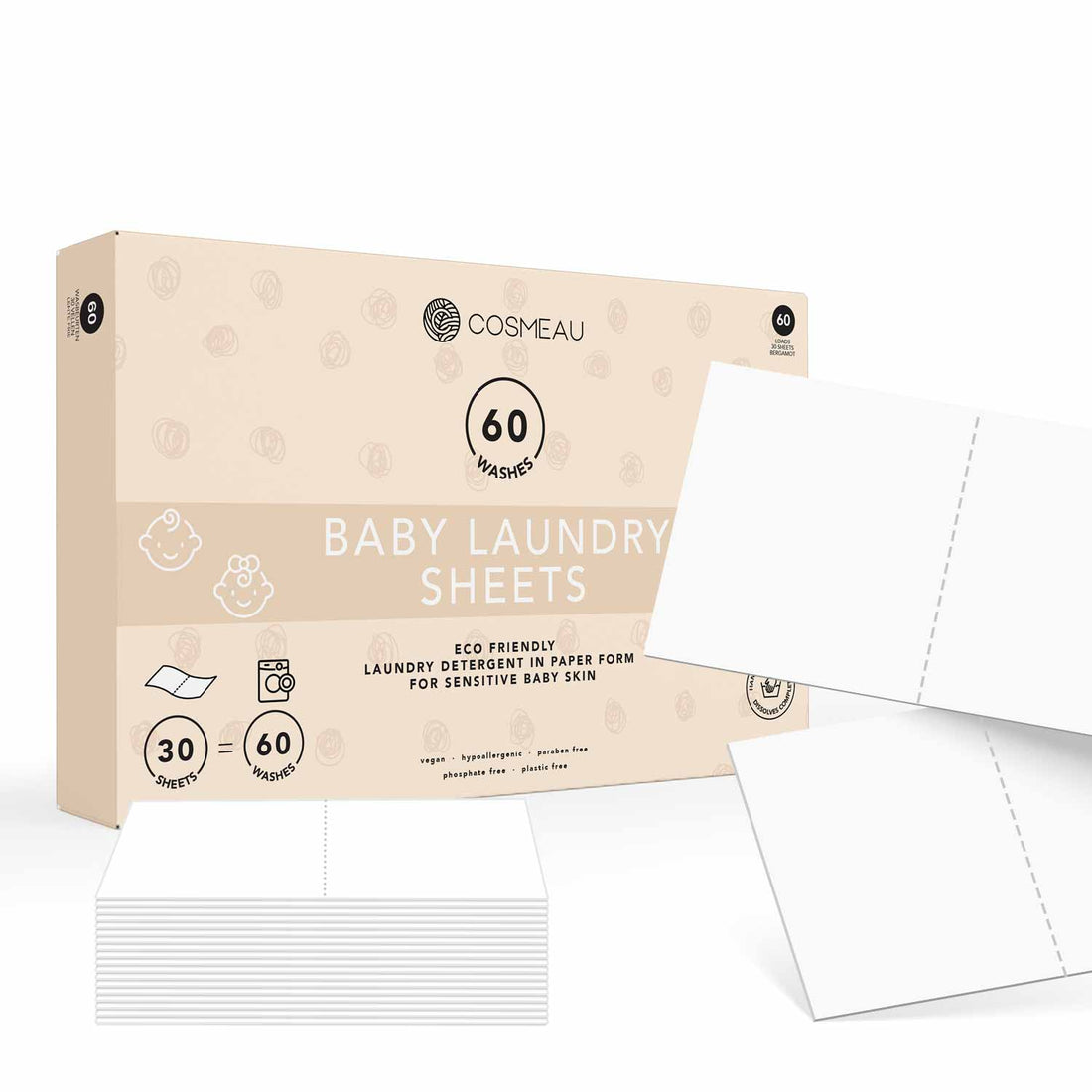 Baby Clothing Laundry Sheets - 60 Washes
"Revolutionize Your Laundry Routine with Cosmeau Eco-Friendly Detergent Wash Strips by re:gn"
Are you tired of the never-ending laundry battle with your little ones? Discover the ultimate solution to tackle tough stains and keep your baby and toddler clothes looking fresh and clean with Cosmeau Detergent Wash Strips, now available through re:gn! Our innovative formula is specially developed to target common stains from babies and toddlers, all while being pH-neutral and dermatologically tested, ensuring a gentle and safe clean for your little ones.
Eco-Friendly, Gentle, and Vegan: At re:gn, we believe in caring for our planet and your family's well-being. That's why our Detergent Wash Strips are not only eco-friendly and plastic-free but also completely vegan and biodegradable. Embrace a more sustainable lifestyle with each load of laundry!
Highly Concentrated Eco-Formula: Powered by our highly concentrated eco-formula, these detergent strips deliver exceptional cleaning performance without compromising on our commitment to the environment. Watch as they effortlessly dissolve in both hot and cold water, leaving your laundry fresh and spotless, load after load.
Invigorating Bergamot Fragrance: Experience the joy of clean laundry with a touch of luxury! Our Detergent Wash Strips are delicately scented with a warm and fresh bergamot fragrance, creating an uplifting ambiance with every wash.
Say Goodbye to Messy Stains: Our mild plant-based formula isn't just perfect for baby clothes – it's also ideal for tackling adult messes with ease! So, whether it's a little one's spills or an adult's mishap, Cosmeau Detergent Wash Strips have got you covered.
Why Choose Cosmeau Detergent Wash Strips by re:gn: ✔ pH-neutral and dermatologically tested, ensuring baby-safe cleaning ✔ Specifically designed to combat common baby stains effectively ✔ An eco-friendly alternative that reduces your carbon footprint ✔ Conveniently deliver 60 washes straight to your letterbox, saving you time and hassle ✔ All-in-one solution: No need for fabric softener, our strips do it all! ✔ Suitable for all laundry types – white, colored, and dark ✔ Versatile for all water temperatures, including gentle hand wash cycles ✔ Unique mild formula that's safe for delicate fabrics like silk and wool ✔ 100% biodegradable, contributing to a cleaner planet ✔ Portable and easy-to-carry – perfect for home or travel use
Transform your laundry routine and make the switch to Cosmeau Detergent Wash Strips by re:gn today! Elevate your laundry experience with the perfect balance of cleanliness, care, and sustainability.
re:gn - Your Trusted Partner for Eco-Friendly Living.