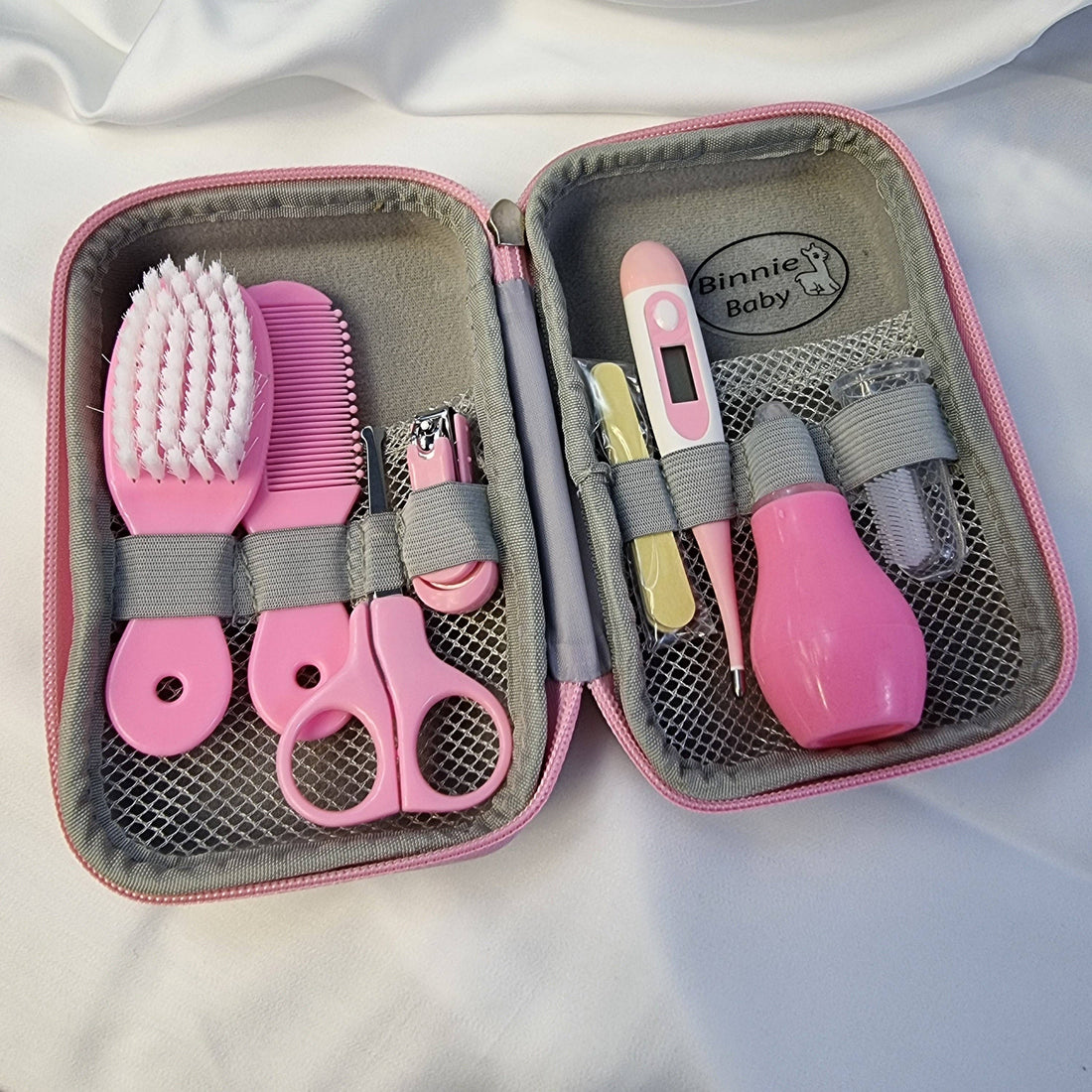 Introducing the Binnie Baby 11-Piece Health Baby Pink Care Set, a must-have collection to ensure optimal care for your little one. This comprehensive set includes essential tools designed to meet your baby's specific needs.
The set features a quick, comfortable, and accurate digital thermometer with a flexible tip, providing extra comfort for both you and your baby during temperature measurements. With precise readings, you can monitor your baby's health with confidence.
Our nasal aspirator, equipped with a soft and flexible tip, aids in opening your baby's airways, promoting easier breathing. This gentle tool helps alleviate congestion, allowing your baby to feel more comfortable.
Maintaining oral hygiene is crucial, and our finger toothbrush is designed for cleaning and massaging your baby's teeth and gums. The soft bristles provide a gentle touch, ensuring a positive experience during oral care routines.
Safety is paramount, and our scissors feature rounded tips, minimizing the risk of accidental cuts. Trim your baby's nails or perform other delicate tasks with peace of mind.
For nail care, our set includes three rounded emery boards and a baby-safe nail clipper. These tools ensure a safe and precise nail grooming experience for your little one.
To maintain their adorable locks, we've included a baby brush with soft bristles and a baby-safe comb with rounded teeth. These grooming essentials are gentle on your baby's delicate scalp and hair.
The Binnie Baby 11-Piece Health Baby pink Care Set comes in a stylish case with a coloured zipper, providing hygienic storage for all the items included. The case is not only functional but also eco-friendly, as recycled plastics are used in its construction, and the casing itself is made from recyclable materials.
With its cute pink colour, this set is perfect for baby girls, offering a complete care solution in one convenient package. Whether you're at home or on the go, this comprehensive set ensures you have all the necessary tools for your baby's well-being.
Choose the Binnie Baby 11-Piece Health Baby Pink Care Set for a practical, safe, and eco-conscious approach to caring for your precious little one.