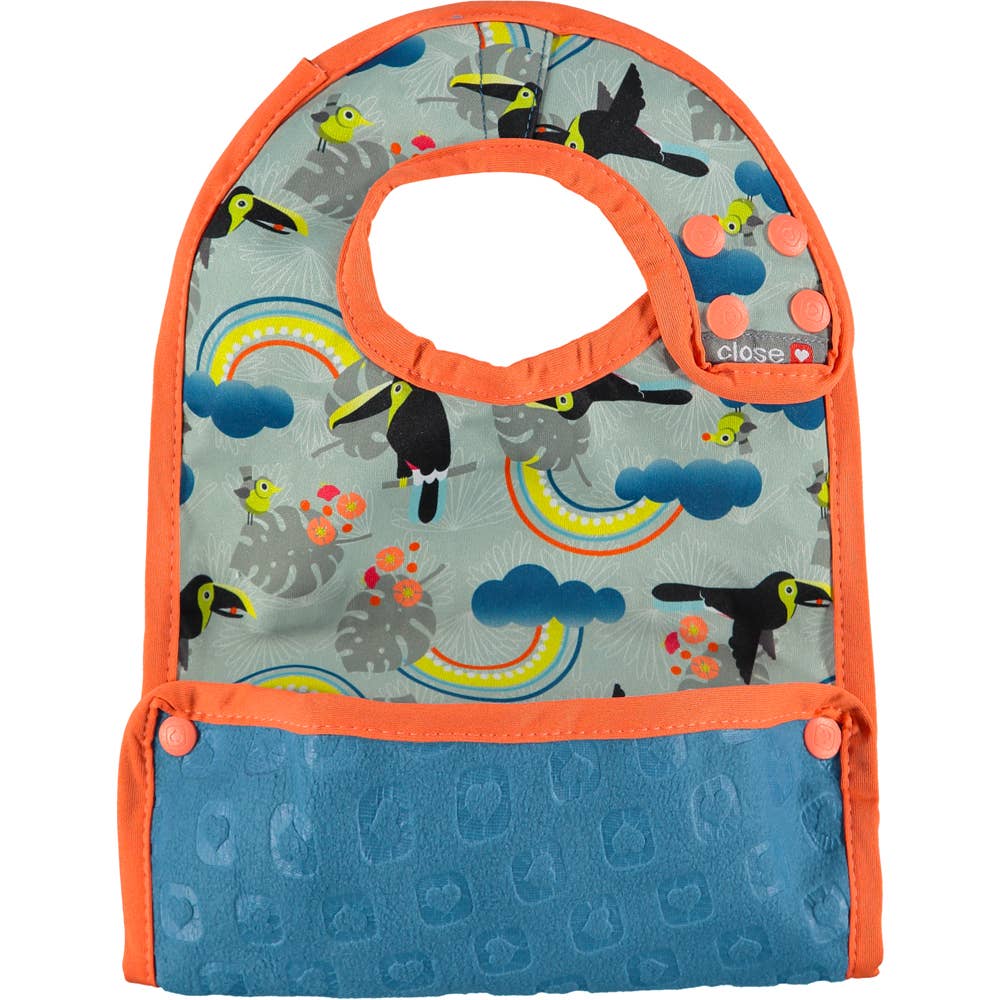 Double-Sided Weaning Bib With Crumb Catcher - Toucan
Introducing the Double-Sided Weaning Bib With Crumb Catcher - Toucan, a delightful fusion of innovation and charm that's set to revolutionize your baby's mealtime journey. Prepare to embark on a delightful adventure of early weaning with a bib that's not only practical but also brimming with playful elegance.

Experience the brilliance of this Pop-in stage 2 baby bib, thoughtfully crafted to make those inaugural foodie moments effortless and enjoyable. The adjustable neck fastening and dual popper size settings ensure a secure fit that effortlessly dresses your little one, while proving a challenging task for those tiny, curious hands. Bid adieu to mealtime messes and say hello to a clean, stylish dining experience.

Behold the magic of the patterned side, a guardian against stains that effortlessly repels spills and wipes clean in an instant. The plush, fleecy reverse side eagerly absorbs dribbles, safeguarding your baby's delicate skin and precious outfits from dampness. But the ingenuity doesn't stop there – nestled within the layers lies a complete waterproof fortress, ready to ward off moisture and ensure your baby stays dry and comfortable.

But wait, there's more – the pièce de résistance: the crumb catcher. Elevate mealtime to an artful experience by folding the flap upwards or securing it at the back, transforming the bib into a fully enclosed, pelican-style pocket that captures crumbs with finesse. Witness the transformation as mealtime messiness is elegantly tamed!

Elegance meets sustainability with the Double-Sided Weaning Bib With Crumb Catcher - Toucan. Crafted from 100% recycled polyester, its 3-ply laminate boasts a durable TPU membrane and a cocoon-like polyester fleece, delivering durability without compromising on comfort. Maintenance is a breeze – a quick wipe or gentle hand rinse for minor mishaps, while a 40-degree machine wash takes care of more significant challenges. Remember, avoid biological detergents, bleach, and fabric softeners for a bib that stands the test of time.

Embark on a culinary escapade filled with flavor, curiosity, and shared smiles with the Double-Sided Weaning Bib With Crumb Catcher - Toucan. Elevate your baby's mealtime experience while preserving those cherished outfits. Bid farewell to mealtime mess stress and embrace delightful functionality – a bib that encapsulates joy, convenience, and style in one captivating package.