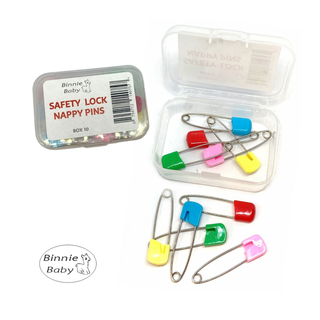 Nappy Safety Pins - 10 Pack
Introducing our Safety Lock Nappy Pins, the ideal accessory for cloth nappies. This pack of 10 pins is designed to provide a secure and reliable fastening solution for your little one's nappies.

Safety is our utmost priority, which is why these nappy pins feature a unique safety lock mechanism. This ensures that the pins stay securely fastened, providing peace of mind for parents and caregivers. The safety lock prevents accidental openings, keeping the nappy in place throughout the day.

Our Safety Lock Nappy Pins are made from durable materials, ensuring long-lasting performance. The sharp tips effortlessly glide through fabric while minimizing the risk of snagging or poking delicate skin. With their sturdy construction, these pins are designed to withstand repeated use.

To align with our commitment to sustainability, these Safety Lock Nappy Pins are thoughtfully packaged in recycled plastic packaging. By choosing our product, you not only prioritize your baby's safety but also contribute to reducing waste and promoting a greener environment.

Whether you're a parent, caregiver, or advocate for cloth nappies, our Safety Lock Nappy Pins provide a reliable and convenient fastening solution. Experience the ease and security of using these pins to keep your baby's nappies in place throughout their daily activities.

Invest in the safety and practicality of our Safety Lock Nappy Pins, and simplify cloth nappy changes with confidence. With their reliable performance and eco-friendly packaging, these pins are an essential addition to any cloth nappy routine.