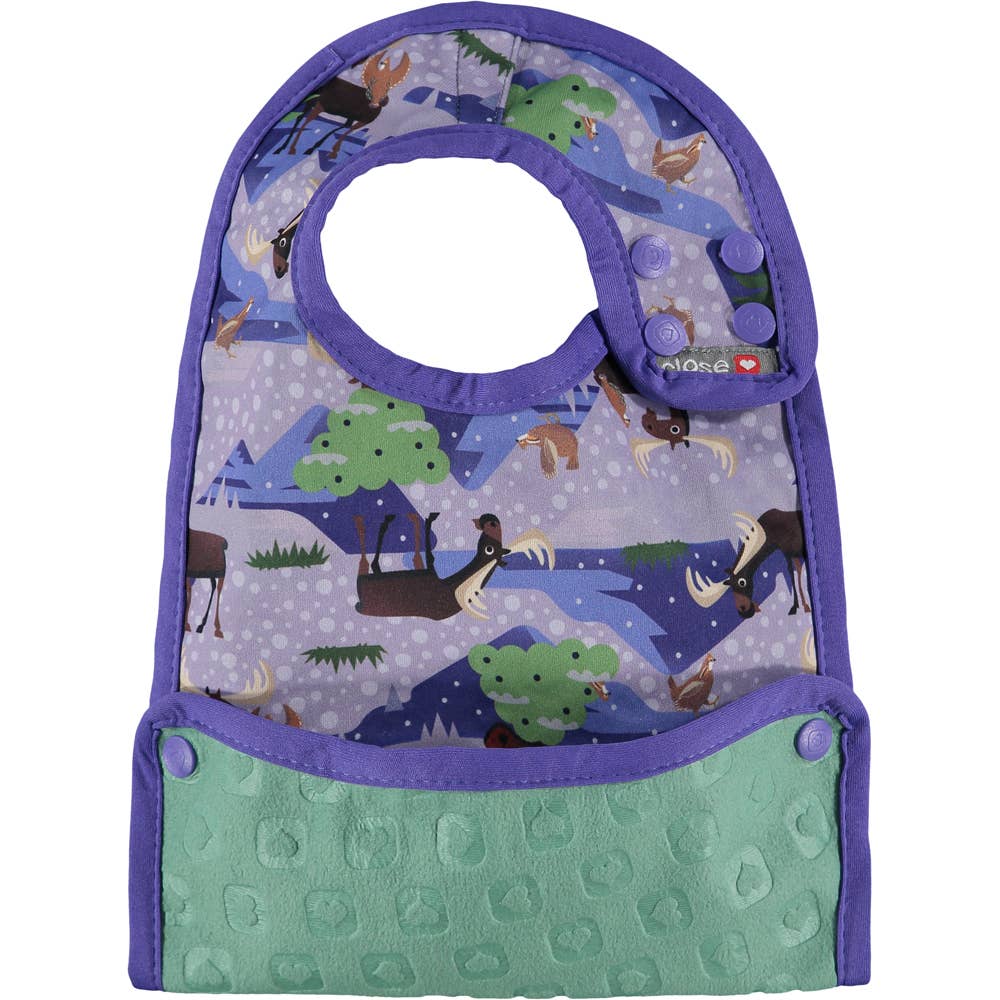 Double-Sided Weaning Bib With Crumb Catcher - Moose
Introducing the Double-Sided Weaning Bib With Crumb Catcher - Moose, your little one's new mealtime companion that combines clever design with adorable functionality. Step into a world of hassle-free weaning and delightful discoveries with this Pop-in stage 2 baby bib.

Crafted with ingenuity, this bib boasts an array of features that simplify your baby's feeding journey. The adjustable neck fastening and dual popper size settings ensure a snug fit that's effortless to put on, yet a challenging puzzle for those curious, tiny hands. Say goodbye to mealtime messes and hello to a tidy, stylish little diner.

Featuring a charming patterned side, this bib doesn't just capture attention – it's a stain-repellent marvel that wipes clean in an instant. Embrace spills and dribbles with confidence as the soft, fleecy reverse side eagerly absorbs every precious drop. But the magic doesn't stop there – nestled between these layers lies a full waterproof barrier, safeguarding your baby's outfit from moisture, no matter how you choose to wear it.

And then, the pièce de résistance: the crumb catcher. A simple fold of the flap or a quick popper adjustment transforms this bib into a fully enclosed pelican-style pocket, capturing crumbs before they embark on their great escape. The mess stays contained, and your sanity remains intact – a true win-win!

Experience the epitome of practicality and sustainability with the Double-Sided Weaning Bib With Crumb Catcher - Moose. Crafted from 100% recycled polyester, its 3-ply laminate is fortified with a TPU membrane and a cocoon-like polyester fleece, ensuring comfort and durability in equal measure. Maintenance is a breeze – a swift wipe or gentle hand rinse takes care of minor mishaps, while a 40-degree machine wash handles more significant challenges. Remember, skip the biological detergents, bleach, and fabric softeners for a bib that stands the test of time.

Embark on a culinary journey filled with laughter, exploration, and flavors with the Double-Sided Weaning Bib With Crumb Catcher - Moose. Elevate your baby's mealtime experience while preserving those adorable outfits. Say goodbye to mealtime mess stress and hello to charming functionality – it's a bib that's as endearing as it is indispensable.