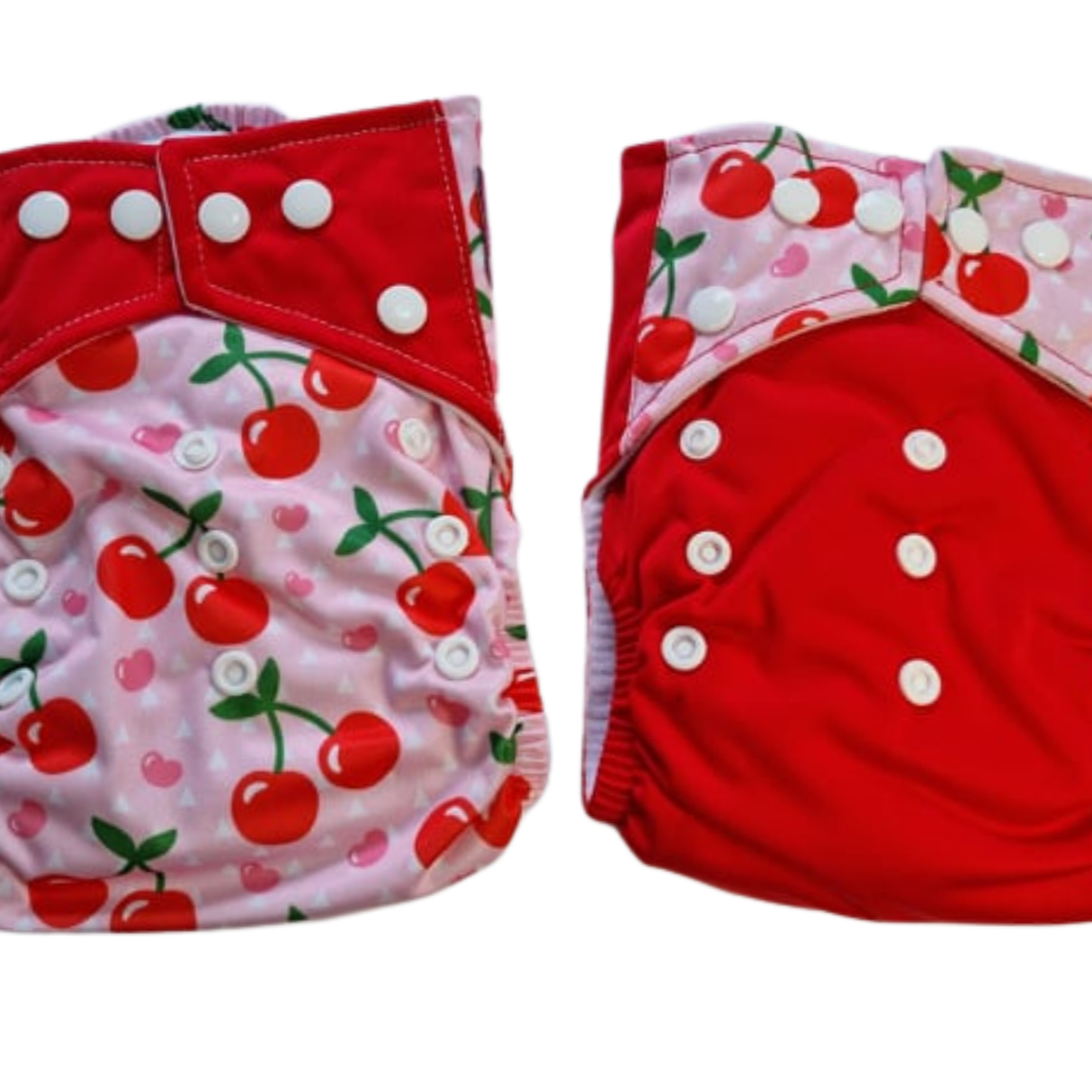 Red Cherry Cloth Nappies (Twin Pack)
Introducing Binnie Premium Eco-Friendly Cloth Nappies in a vibrant red color adorned with charming cherry designs—a perfect combination of quality, affordability, and environmental consciousness. These nappies are thoughtfully designed to provide exceptional comfort, convenience, and maximum leak support for your little one.

With a waterproof outer layer and double leakage gussets, these nappies offer outstanding durability and ensure optimal leak containment. You can have peace of mind knowing that your baby will stay dry and comfortable, allowing them to explore and play freely.

Our Binnie Premium Cloth Nappies are conveniently packaged in a twin pack, providing you with two nappies to meet your baby's needs. Each nappy features a removable microfibre insert that enhances absorbency and provides an additional layer of leak protection. The removable insert can be easily adjusted for washing or replaced with extra inserts for heavy wetters or overnight use, offering flexibility to customize the nappy to your baby's unique requirements.

Designed as a One Size Fits Most (OSFM) solution, these nappies are suitable for most babies, ranging from approximately 3kg to 15kg. This versatility ensures a long-lasting investment, saving you money while also reducing waste compared to disposable nappies. By choosing Binnie Premium Eco-Friendly Cloth Nappies, you are making a budget-friendly and eco-conscious choice for your family.

Embrace the benefits of cloth nappies and experience the superior quality and affordability of Binnie Premium Eco-Friendly Cloth Nappies in red with a cherry design. Make diaper changes a breeze while minimizing your environmental impact. Choose the best for your little one and the planet today!