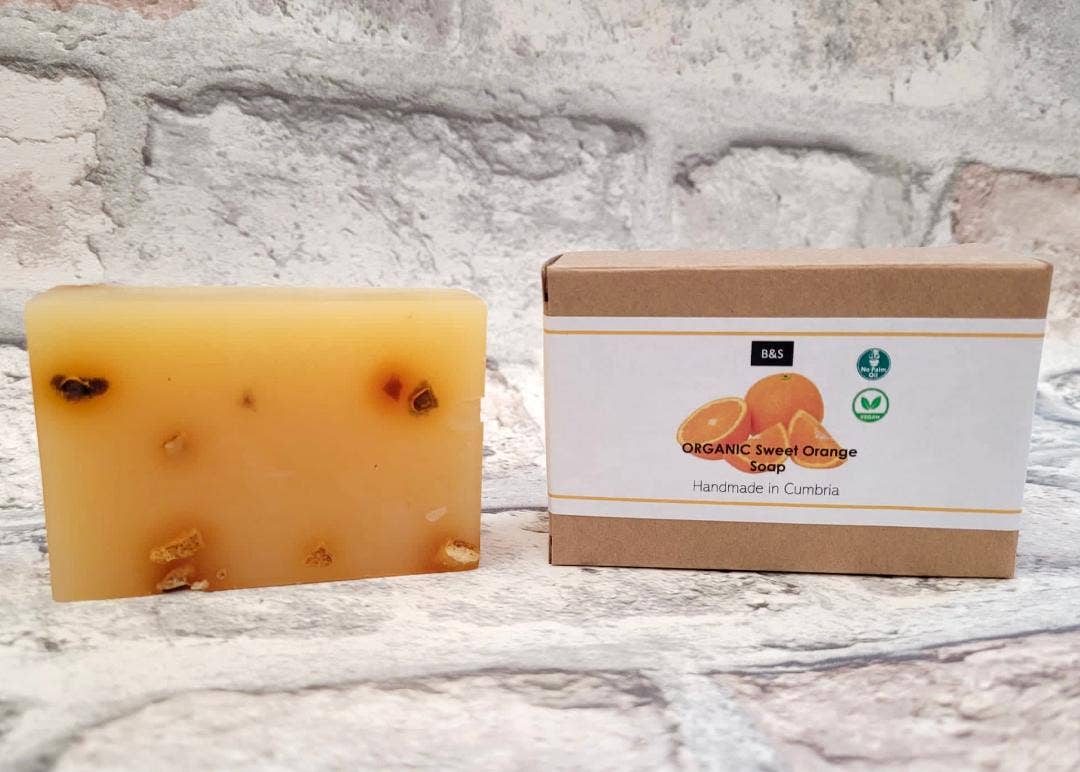 ORGANIC SWEET ORANGE SOAP - 100g
Elevate Your Mood with the Zesty Bliss of Sweet Orange Soap

Experience an instant burst of joy and vitality with our Sweet Orange Soap – a radiant celebration of Citrus sinensis that's designed to brighten your day. Let the cheerful, sweet scent of orange uplift your spirits while you indulge in the rejuvenating benefits of this zesty soap.

Embrace the sun-kissed essence of sweet orange as it dances through the air, infusing your senses with a contagious cheerfulness that's hard to resist. With each use, our Sweet Orange Soap becomes a source of inspiration, a daily reminder that a simple moment of indulgence can elevate your mood and spirit.

Adorning the top of this zesty delight are carefully dried orange slices, a delightful touch that adds a burst of authenticity to every bar. As you cleanse your skin, you'll revel in the antiseptic and toning qualities that sweet orange oil brings, leaving you with a feeling of revitalization that lasts long after your shower.

At a weight of 100g, this soap is a compact treasure trove of goodness that promises to transform your bathing ritual into a vibrant experience. The thoughtful blend of ingredients, including glycerin, aloe Barbadensis leaf juice powder, and the invigorating citrus sinensis (Sweet orange) essential oil, ensures a cleansing journey that's as rejuvenating as it is indulgent.

Our commitment to quality is evident in every aspect of this bar. Certified organic and crafted with meticulous care, our Sweet Orange Soap carries the promise of purity. We've taken care to balance any potential allergens – Citral, Geraniol, Linalool, and D-limonene Limonene – to ensure your comfort and well-being.

Elevate your self-care routine with the radiant essence of our Sweet Orange Soap. Let the zesty scent become your daily companion, inspiring you to embrace life's simple pleasures with unbridled enthusiasm. Your path to positivity begins here, and with every wash, you'll rediscover the magic of a joyful spirit.