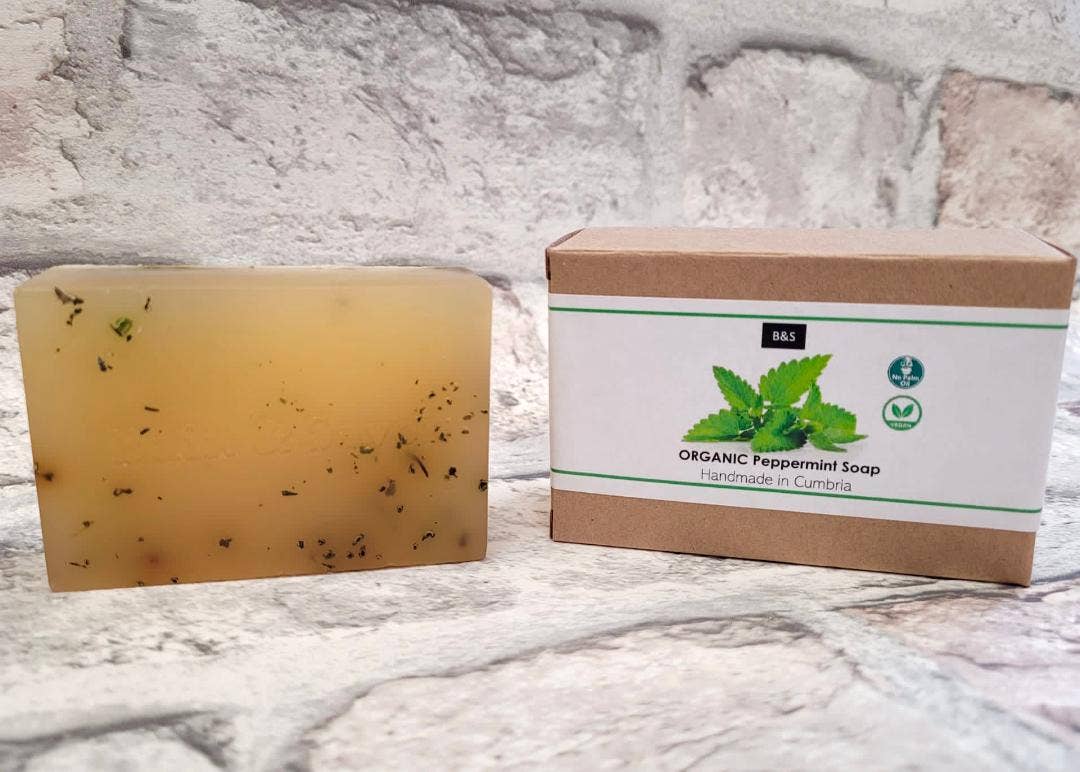 ORGANIC PEPPERMINT SOAP - 100g
Awaken Your Senses with Our Invigorating Peppermint and Lemongrass Soap

Experience the exhilarating embrace of our Tingly Fresh Soap – a burst of invigoration that's tailor-made for your morning shower. Enriched with the pure essence of Peppermint and Lemongrass, this soap is your secret to starting the day with a revitalizing kick.

Embrace the tingling sensation that accompanies every use of our Tingly Fresh Soap. As you lather up, feel the brisk caress of Peppermint essential oil infusing your senses with renewed energy. The top is adorned with dried, home-grown mint leaves, a reminder of the authenticity that defines every element of this bar.

Lemongrass essential oil steps in as the ultimate skin revitalizer, boasting antiseptic and astringent properties that clear blocked pores and leave your skin feeling vibrant and renewed. As you wash away the cares of the night, allow the refreshing scent of Lemongrass to awaken your senses, offering a delightful tingle that lingers long after your shower.

At a weight of approximately 100g, this soap embodies a compact indulgence that promises to elevate your morning routine. Its carefully curated blend of ingredients, including glycerin, aloe Barbadensis leaf juice powder, and the invigorating Mentha piperita (peppermint) essential oil, guarantees a cleansing experience that's as revitalizing as it is rejuvenating.

Our dedication to quality is a promise etched into every bar. Certified organic and thoughtfully formulated, our Tingly Fresh Soap delivers a symphony of pure freshness. Any potential allergens, such as Linalool and Limonene, are balanced to ensure a safe and comfortable experience.

Awaken your senses, clear your mind, and embrace the invigorating journey of our Peppermint and Lemongrass Soap. It's more than just a bar of soap – it's a daily ritual that jumpstarts your morning, empowering you to seize the day with renewed vigor. Elevate your self-care routine and let the scent of pure authenticity be your guide. Your path to revitalization begins here.