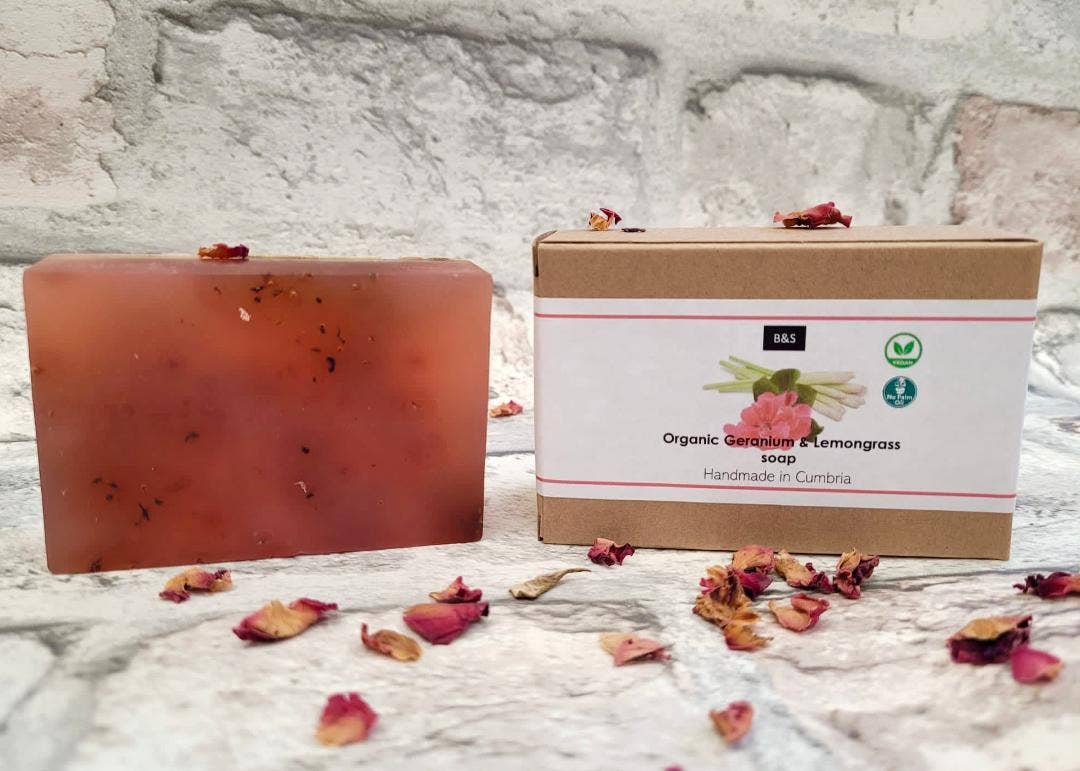 ORGANIC GERANIUM & LEMONGRASS SOAP - 100g
Experience Radiant Luxury with our Handcrafted Geranium & Lemongrass Soap

Elevate your daily skincare routine to a realm of opulence with our exquisite Geranium & Lemongrass Soap. Crafted by skilled hands and enriched with the purest essential oils, this luxurious bar is more than just soap – it's a journey to rejuvenation.

Unveil the harmonious fusion of Geranium and Lemongrass essential oils, a symphony of nature's finest. As you lather up, feel the cares of the day melt away, replaced by a sense of tranquility that only pure, botanical fragrances can bring. Adorned with delicate dried Rose petals and a graceful swirl of rose madder root, every bar is a work of art that invites you to indulge in a moment of true beauty.

Let the power of Lemongrass oil envelop you, relieving fatigue and soothing aching muscles, while working its magic to combat acne and balance oily skin. Geranium oil, a timeless treasure used since ancient Egyptian times, graces your skin with a touch of radiance, lifting not only your mind but also enhancing the beauty that lies within.

Our commitment to quality is unwavering. This 100g bar is a testament to our dedication, meticulously formulated with a blend of organic ingredients that nurture and cleanse. Aqua, glycerin, sucrose, and other natural elements create a symphony of care that's as gentle as it is effective.

As a conscious choice, our Geranium & Lemongrass Soap is free from harmful additives. Certified organic and meticulously crafted, it's a gift for your skin that's as pure as your intentions. With allergens like Geraniol, limonene, Citral, Linalool, and Citronellol balanced for your comfort, every use becomes a sensory delight.

Rediscover the joy of radiant skin and embrace the transformative power of our Geranium & Lemongrass Soap. Elevate your self-care routine to a realm of elegance and indulge in the art of pure, natural luxury. Experience the beauty that nature provides – one lather at a time.