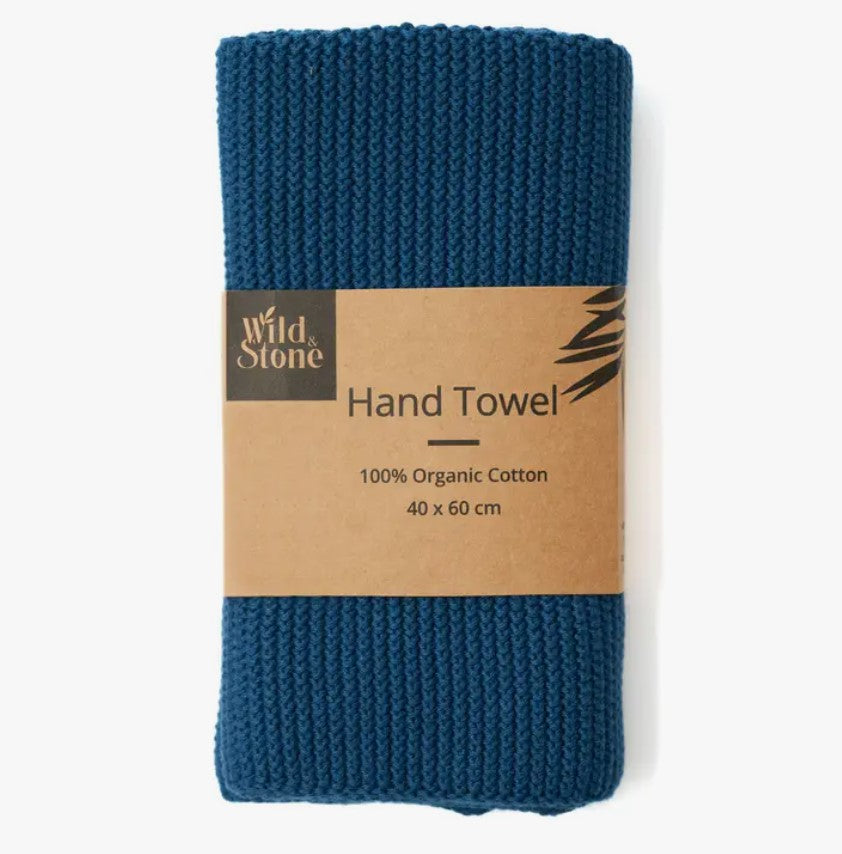 Organic Cotton Hand Towel - Ocean
Introducing Wild & Stone's Organic Cotton Hand Towels, the ultimate combination of functionality and sustainability for your home. These hand towels are designed to meet your diverse needs, whether it's drying plates or pampering your hands.

Crafted from premium organic cotton, our hand towels offer exceptional absorbency, ensuring they quickly and effectively dry dishes and utensils. Say goodbye to water spots and hello to sparkling clean kitchenware.

But our hand towels don't stop there. They are also incredibly soft and gentle on the skin, making them a perfect choice for drying your hands. Experience the luxurious touch of organic cotton as you indulge in a moment of comfort and care.

What sets our hand towels apart is their eco-friendly nature. Once you've maximized their usefulness, you can simply cut them into strips and place them in the recycling bin. Thanks to their organic cotton composition, they will fully biodegrade, leaving behind no harmful waste.

By choosing Wild & Stone's Organic Cotton Hand Towels, you make a conscious choice to reduce your environmental impact. Say goodbye to single-use paper towels and embrace the sustainability of our reusable towels. Every small step counts in creating a greener future.

1 Pack
Choice of 7 colours
Dimensions: 40 x 60 cm
The useful hanging tag allows you to hang it up between uses
100% Organic Cotton
Dyed to Oeko-Tex Standard
Machine wash at 60°C
Can be tumble dried
We do not recommend using fabric softener as it reduces the towels drying abilities