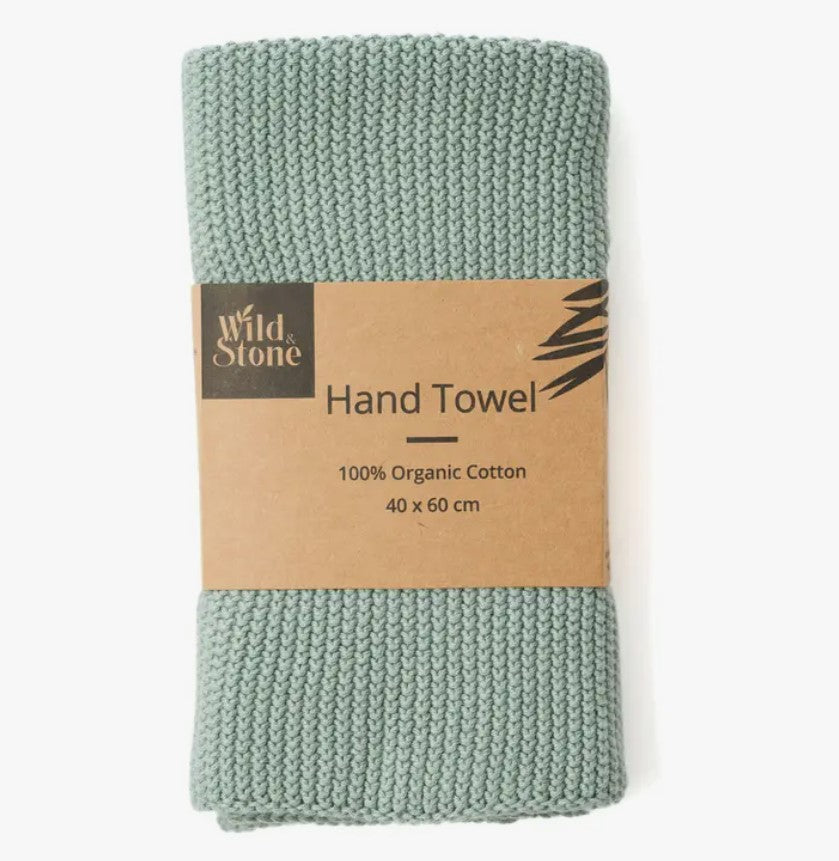 Organic Cotton Hand Towel - Moss Green
Introducing Wild & Stone's Organic Cotton Hand Towels, the ultimate combination of functionality, comfort, and sustainability. These hand towels are designed to elevate your home with their exceptional absorbency and gentle touch.

Crafted from organic cotton, these hand towels offer an eco-friendly alternative to conventional options. By choosing organic cotton, you make a conscious decision to support sustainable farming practices that prioritize the health of our planet and the well-being of farmers.

Our hand towels excel in their absorbency, making them ideal for drying plates and dishes effectively. Their soft and plush texture ensures efficient moisture absorption, leaving your dishes clean and dry in no time.

But that's not all! These hand towels are also incredibly soft and gentle on the skin. Pamper your hands with the luxurious feel of organic cotton, knowing that you're using a material that is kind to both your skin and the environment.

When it's time to replace these eco-friendly hand towels, you can rest assured that they won't contribute to landfill waste. Simply cut them into strips and place them into the recycling bin. Thanks to their organic composition, they will fully biodegrade, minimizing their impact on the planet.

At Wild & Stone, we are committed to providing sustainable solutions that don't compromise on quality or style. Our Organic Cotton Hand Towels embody this ethos, allowing you to make a positive impact on the environment without sacrificing functionality or comfort.

Upgrade your home with our Organic Cotton Hand Towels and experience the perfect blend of absorbency, softness, and eco-consciousness. Join us in creating a more sustainable future, one hand towel at a time.
1 Pack
Choice of 7 colours
Dimensions: 40 x 60 cm
The useful hanging tag allows you to hang it up between uses
100% Organic Cotton
Dyed to Oeko-Tex Standard
Machine wash at 60°C
Can be tumble dried
We do not recommend using fabric softener as it reduces the towels drying abilities