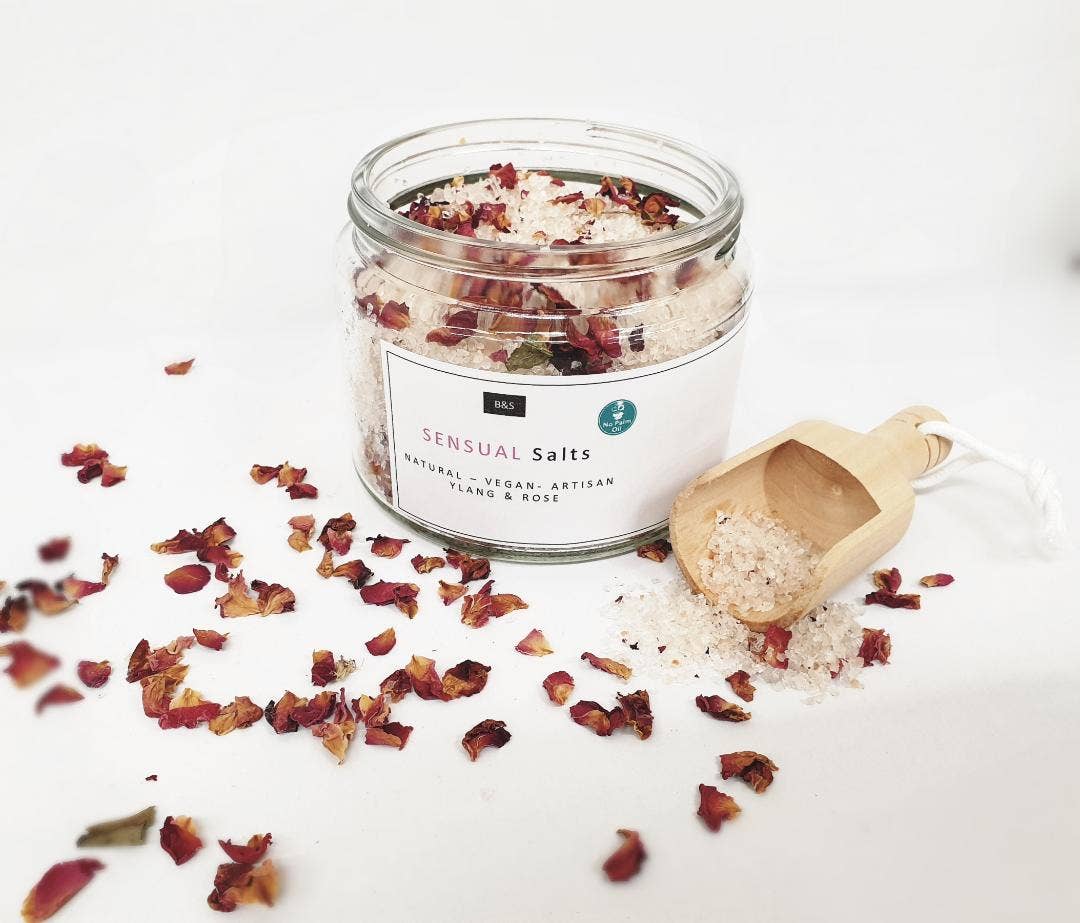 HIMALAYAN BATH SALTS 500G - SENSUAL ylang & rose
Elevate Your Bathing Experience with Our Himalayan Pink Salt and Coconut Oil Aromatherapy Elixir

Discover the time-honored tradition of rejuvenation through salt baths, cherished since the days of ancient Greece. Unveil a world of relaxation and renewal as you indulge in our exquisite Himalayan Pink Salt and Coconut Oil Aromatherapy Elixir – a symphony of nature's best for an unforgettable bathing journey.

The epitome of salt perfection, Himalayan Pink Salt reigns supreme as the ultimate choice for your soothing soak. Enriched with an astonishing 84 minerals, this ancient treasure soothes and restores your skin, working tirelessly to repair damage and inspire the renewal of your skin's natural beauty.

Immerse yourself in pure luxury as our elixir marries the nourishing essence of coconut oil with the delicate allure of rose petals. These meticulously selected base oils wrap your skin in a velvety embrace, infusing it with lasting moisture and a newfound softness that lingers long after your bath is over.

Watch in awe as the Himalayan Pink Salt effortlessly infuses your bath water with vital vitamins and minerals, transforming your bathing ritual into a nurturing sanctuary. Breathe in the enchanting scents of plant essential oils, each note a step closer to a spa-like oasis – all without the use of synthetic fragrances.

At [Your Brand Name], authenticity is our promise. Embrace the pureness of truly natural ingredients that honor the earth and its inhabitants. Our commitment to cruelty-free and vegan formulations is unwavering, reflecting our respect for both your well-being and the environment. Crafted from sustainably grown ingredients and created without water, each drop is a concentrated celebration of nature's gifts.

But our dedication to your holistic well-being doesn't stop there. We've gone beyond to create an aromatherapy experience that transcends the ordinary, weaving the essence of pure essential oils and delicate flowers into every bottle. Allow your senses to be transported as you embark on an extraordinary journey of tranquility and self-care.

Elevate your self-care routine to the sublime with our Himalayan Pink Salt and Coconut Oil Aromatherapy Elixir. Immerse yourself in a world of opulence and serenity, where every drop is a tribute to your natural beauty and the art of indulgence. Experience the transformative power of nature's embrace – it's time to rejuvenate, replenish, and restore.