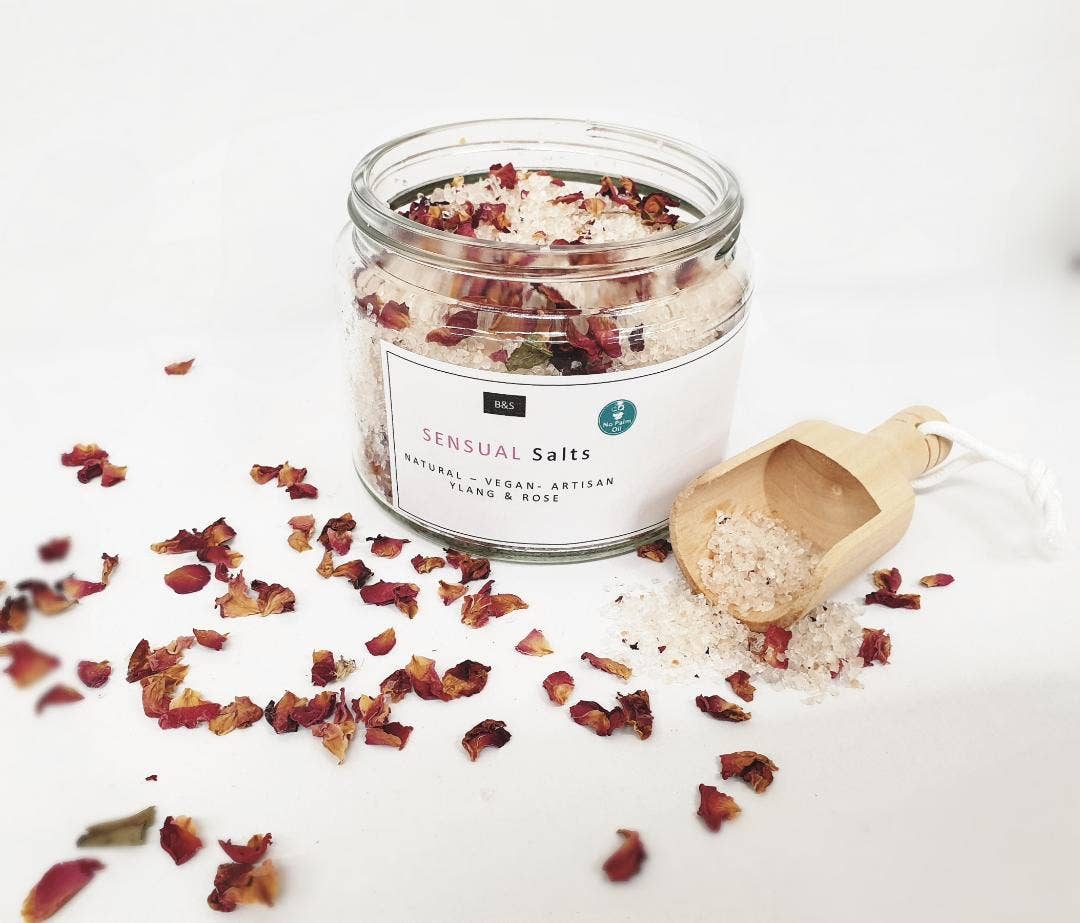 HIMALAYAN BATH SALTS 500G - DETOX tea tree & lime
Elevate Your Bathing Ritual with Our Luxurious Himalayan Pink Salt Spa Elixir

Step into a world of ultimate relaxation and rejuvenation with our exquisite Himalayan Pink Salt Spa Elixir. Inspired by the ancient Greeks' reverence for the healing power of salt baths, our elixir combines centuries of wisdom with modern luxury to create an unparalleled bathing experience.

Indulge in the pure essence of Himalayan salt, revered for its rich composition of 84 essential minerals. As you immerse yourself in the warm embrace of our salt-infused waters, feel the stresses of the day melt away. Let the gentle caress of the salt water soothe and repair your skin, unveiling a renewed and radiant complexion with every soak.

Enriched with the nourishing essence of evening primrose oil, carefully blended with a symphony of dry herbs and base oils, our elixir envelops your skin in a velvety softness that lingers long after your bath is over. Experience the magic of Himalayan Pink Salt as it infuses your bath water with a wealth of vitamins and minerals, turning your bath into a sanctuary of holistic wellness.

Discover the art of aroma-therapeutic indulgence as our elixir dances with the natural scents of plant essential oils, providing a spa-like ambience without relying on synthetic fragrances. Immerse your senses in a symphony of tranquility, allowing the stresses of the outside world to fade into the background.

At [Your Brand Name], we take pride in our commitment to natural beauty and ethical practices. Our Himalayan Pink Salt Spa Elixir is truly natural, cruelty-free, and vegan, a testament to our dedication to the well-being of both you and the planet. Crafted from sustainably grown ingredients and formulated without water, every drop of our elixir is a concentrated dose of pure indulgence.

But that's not all – we've taken this extraordinary elixir a step further. Infused with the essence of pure essential oils and delicate flowers, our creation offers the ultimate aromatherapy bathing experience. Let the enchanting scents of nature embrace you as you embark on a sensory journey like no other.

Elevate your self-care routine to new heights with the Himalayan Pink Salt Spa Elixir. Immerse yourself in a world of opulence, rejuvenation, and natural beauty. It's time to indulge in the luxurious art of self-pampering – because you deserve nothing less.