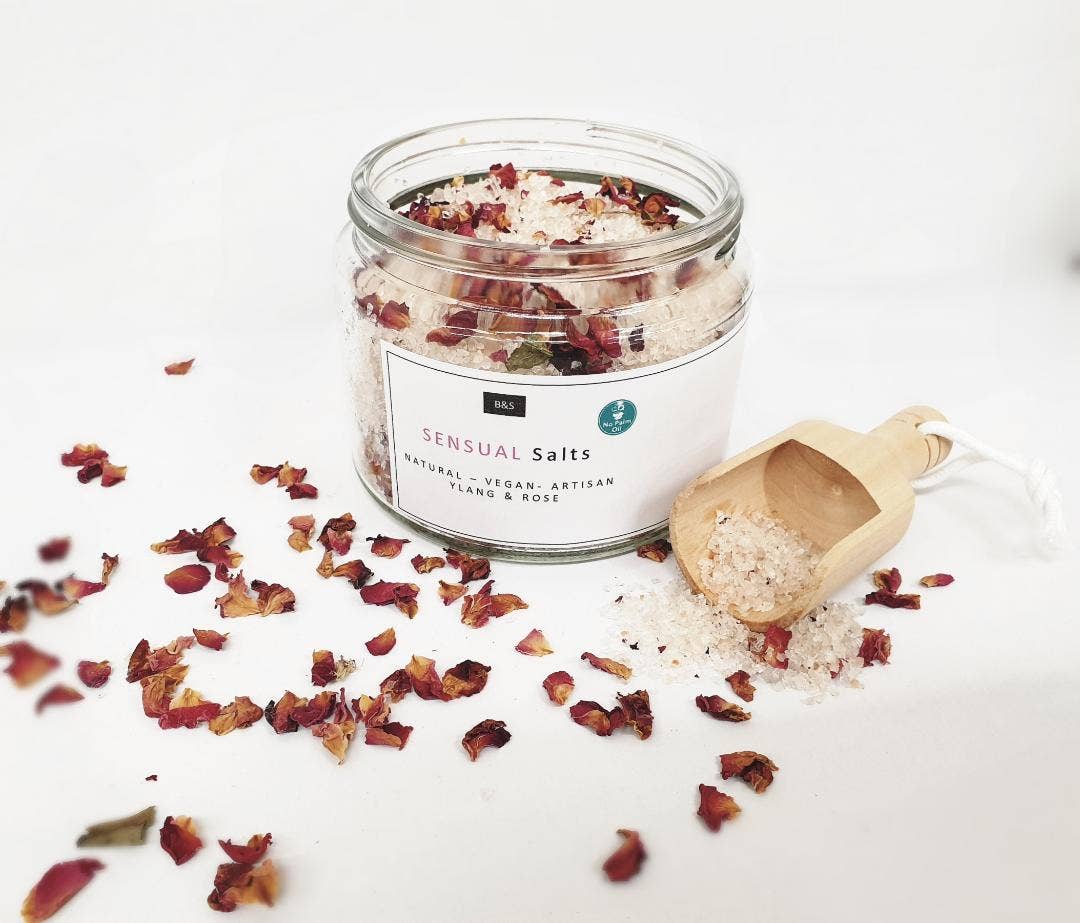 HIMALAYAN BATH SALTS 500G - CLARITY Rosemary & clary sage
Indulge in the Timeless Luxury of Himalayan Pink Salt Bath Elixir

Transport yourself to a world of ancient healing wisdom and modern pampering with our exquisite Himalayan Pink Salt Bath Elixir. Cherished by the enlightened minds of ancient Greece and now embraced by discerning connoisseurs of self-care, this remarkable elixir promises a rejuvenating experience that transcends time.

Immerse yourself in the soothing embrace of pure Himalayan Pink Salt, a mineral-rich treasure trove boasting 84 essential minerals. As you soak in this divine saltwater elixir, you'll feel the cares of the day melt away. Watch as your skin is lavished with tender care, as damaged cells are lovingly repaired and cell renewal is gently encouraged.

But that's not all – our Himalayan Pink Salt Bath Elixir is enriched with a symphony of nature's finest oils. Extra virgin olive oil, nourishing jojoba, and precious evening primrose oils come together in a harmonious blend that caresses and moisturizes your skin, leaving it softer, suppler, and utterly radiant.

Experience the embrace of nature's vitality as your bath water becomes an elixir of vitamins and minerals, an infusion of wellness that envelopes you in comfort. Our commitment to purity and authenticity is unwavering – indulge in the aromatic symphony of plant essential oils that dance through the air, elevating your senses to a spa-like realm of bliss, all without a hint of synthetic fragrances.

Crafted with a passion for true naturalism, our Himalayan Pink Salt Bath Elixir proudly bears the badges of being cruelty-free, vegan, and a celebration of sustainably grown ingredients. We've meticulously formulated this elixir to be water-free, ensuring that every drop is an indulgence of the purest essence.

And there's more – we've gone above and beyond to create an aromatherapeutic masterpiece that transcends the ordinary. The soul-soothing embrace of rosemary and clary sage is complemented by the verdant whispers of olive oil and rosemary leaves, ensuring that your bathing ritual is nothing short of divine.

Step into a world of opulence and rejuvenation with the Himalayan Pink Salt Bath Elixir – where ancient wisdom meets modern indulgence. Elevate your self-care routine to an art form and embrace the embrace of healing, nourishment, and tranquility like never before. Your body and soul deserve nothing less.