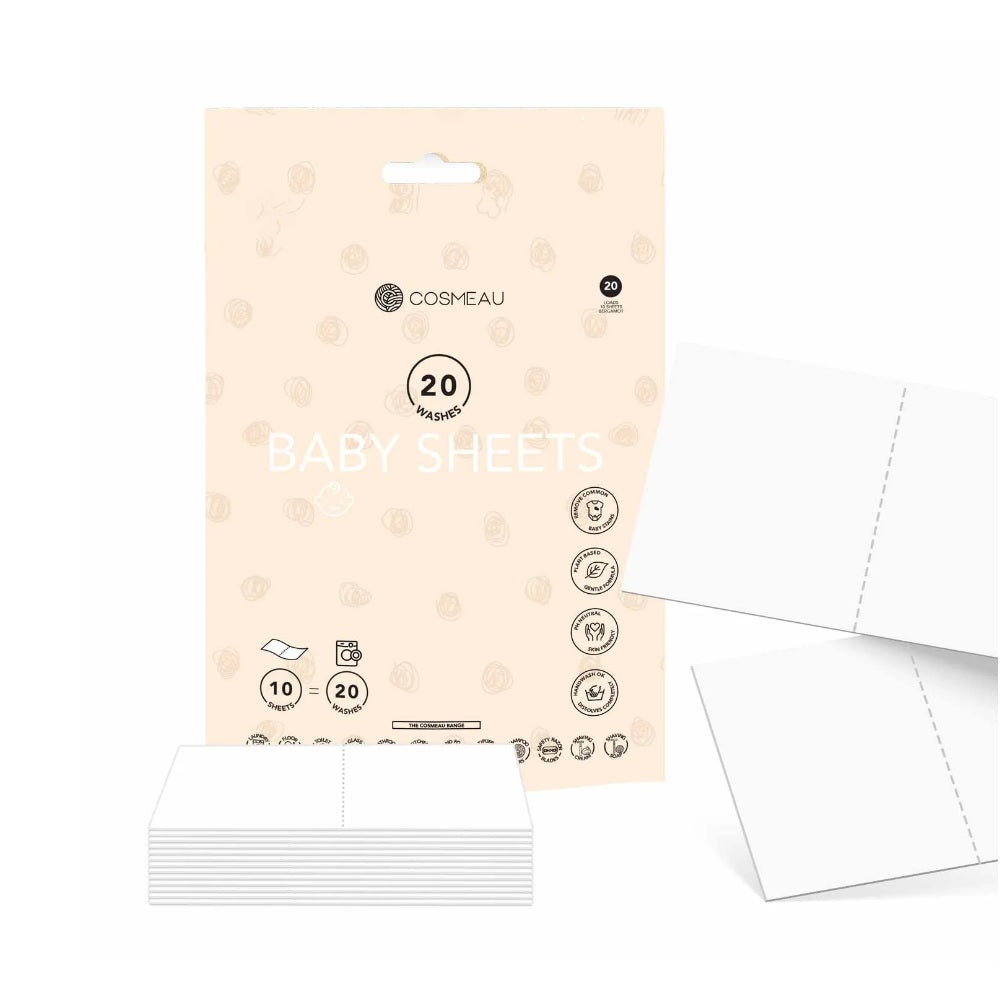 Baby Clothing Laundry Sheets - 20 Washes
"Introducing Cosmeau Eco-Friendly Detergent Wash Strips: Gentle Cleaning for Babies, Toddlers, and Messy Adults!"
Are you tired of struggling with tough stains on your little one's clothes? Say goodbye to stubborn stains and harmful chemicals with our specially developed Detergent Wash Strips! Designed to cater to the delicate needs of babies and toddlers, our pH-neutral and dermatologically tested formula ensures a safe and effective clean, leaving their clothes soft and fresh.
Eco-Friendly and Planet-Smart: At re:gn, we are committed to sustainability, and Cosmeau's Detergent Wash Strips are no exception. Cosmeau's eco-formula is not only plastic-free and vegan but also fully biodegradable, making it a planet-friendly choice for conscientious parents and individuals. By choosing Cosmeau's strips, you're not just investing in your family's well-being, but also contributing to a cleaner and greener environment.
Powerful Concentrated Formula: Don't be fooled by their small size - Cosmeau's detergent strips pack a powerful punch! Their highly concentrated eco-formula dissolves effortlessly in both hot and cold water, ensuring a thorough and effective clean every time. With 60 washes delivered conveniently to your letterbox, you can kiss the hassle of lugging heavy detergent bottles goodbye!
Delightful Bergamot Fragrance: Who says doing laundry can't be a sensory delight? Cosmeau's detergent strips come infused with a delightful bergamot fragrance, leaving your laundry with a warm and fresh scent that's sure to lift your spirits.
Versatile and Gentle: Our mild plant-based formula not only tackles tough stains on baby clothes but also works wonders on adult messes! So, whether it's muddy playdates or accidental coffee spills, Cosmeau's detergent strips have got you covered.
Why Choose Sustainable Laundry Strips:
✔ pH-neutral and safe for baby's sensitive skin
✔ Specifically formulated to combat common baby stains
✔ Eco-friendly alternative to traditional detergents
✔ Works as a fabric softener and detergent in one, saving you time and money
✔ Suitable for all types of laundry - white, coloured, and dark
✔ Perfect for all water temperatures, including hand wash
✔ Unique mild formula suitable for delicate fabrics like silk and wool
Experience the convenience of clean, fresh laundry, wherever you go! Cosmeau's easy-to-carry detergent strips make laundry duty a breeze, whether you're at home or on-the-go.
Join the eco-conscious movement and embrace a cleaner, greener laundry routine with Cosmeau's Detergent Wash Strips. Make the switch today and let your laundry not only look good but also do good for the planet!
re:gn - Where sustainability meets superior cleaning performance.