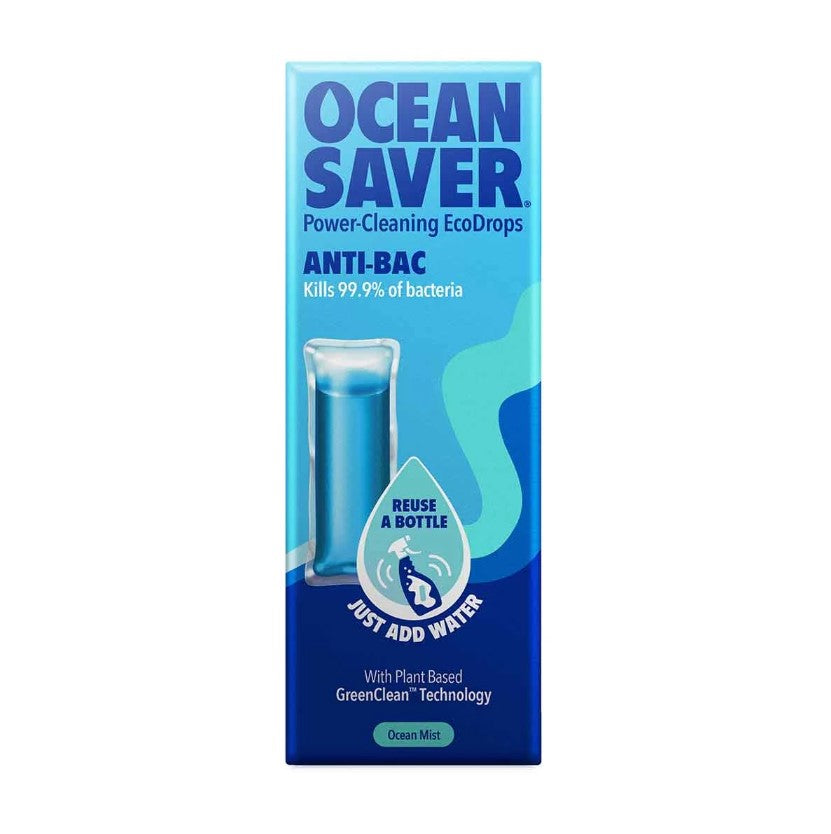 Cleaning Drop Anti Bac – Ocean Mist
1 Pod/drop per pack
Ocean Savers offers an award-winning Anti Bacterial Power Cleaning Eco Drop with a refreshing Ocean Mist scent. These biodegradable pods are made from plant-based ingredients, ensuring an eco-friendly solution that eliminates 99.9% of bacteria. The Anti-bac EcoDrop™ produces a potent antibacterial spray, delivering excellent results throughout your home, including the kitchen and bathroom. It has received the Good Housekeeping seal of approval.
These zero-waste cleaner refills are vegan, plant-based, and free from palm oil. The refill pods are plastic-free, biodegradable, cruelty-free, and paraben-free. They are lightweight and convenient for transportation. Compared to supermarket alternatives, these pods contain 90% less water, reducing carbon emissions by requiring fewer trucks on the road.
Designed for easy use, these refill pods can be added to 500ml-750ml of warm water, producing a powerful and eco-friendly cleaner suitable for both hard and soft water. Simply add them to your clean spray bottles at home. The pods are made from PVOH, which naturally breaks down into carbon dioxide and water when in contact with water. Ocean Savers offers a wide range of cleaners to cater to various cleaning needs.
These water-soluble sachets provide a hassle-free, plastic-free alternative for household cleaning. Simply drop a sachet into an empty bottle, fill it with water, and shake to create a new, ready-to-use antibacterial spray that is environmentally friendly.
By choosing these products, you not only protect your home from bacteria but also contribute to reducing plastic waste in our oceans.
The packaging is made of recyclable cardboard, further emphasizing the commitment to sustainability.