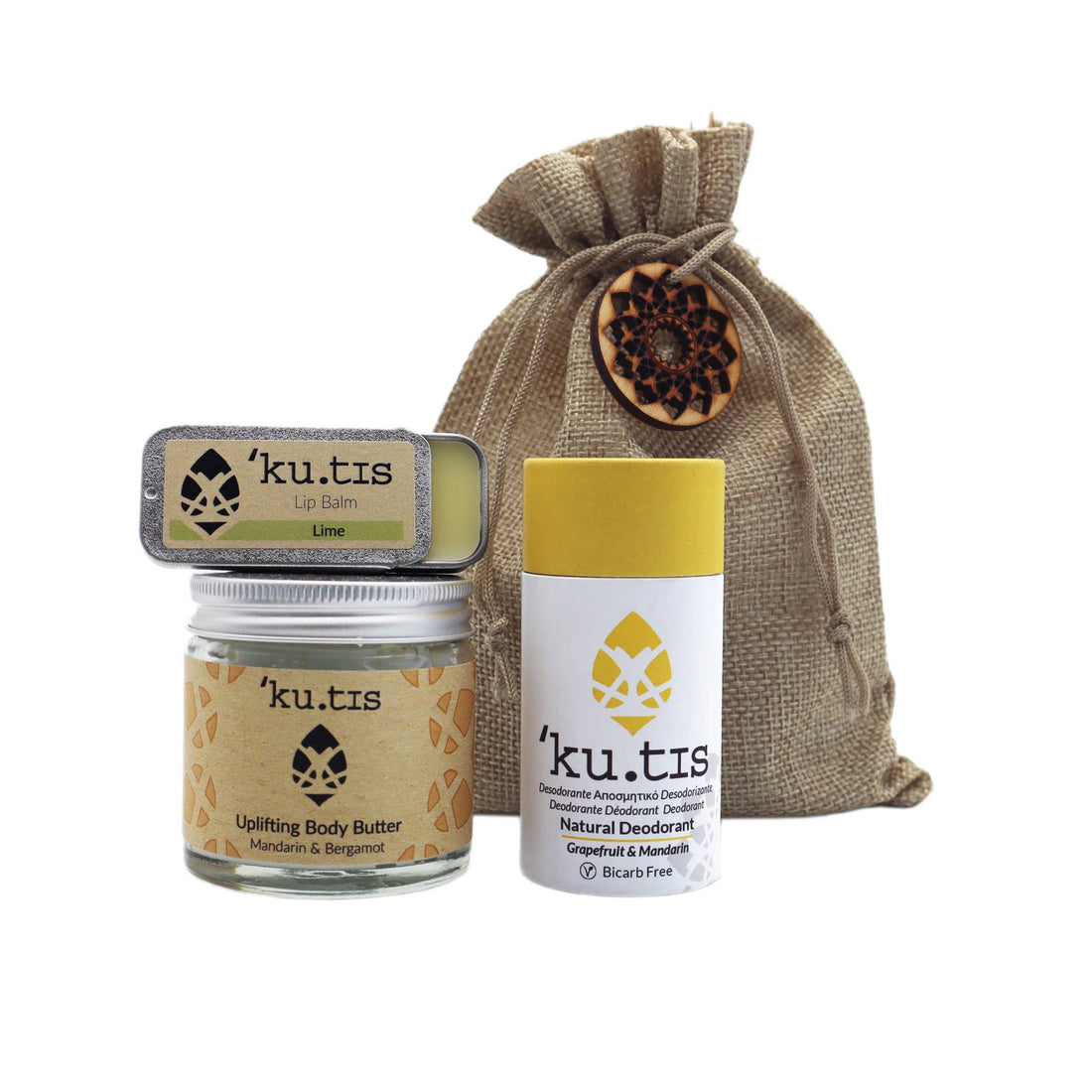 Citrus Beauty Product Gift Pouch
Discover the perfect all-natural skincare gift set from Kutis – a delightful bundle that brings a touch of nature to your daily routine. With three enticing choices – Rose, Citrus, and Naked – you can find the perfect match for your skin and senses.

Each set arrives in an eco-friendly drawstring hessian pouch, making it a charming and ready-to-gift package. Inside, you'll find three essential Kutis products: a gentle deodorant, a soothing lip balm, and a luxurious body butter.

Kutis deodorants are your natural source of long-lasting freshness, free from harmful chemicals often present in commercial options. You can confidently stay fresh without the unwanted additives.

Our shea body butter is a luxurious treat for your skin. Its rich formula deeply hydrates and nourishes, while coconut oil ensures it remains light, fluffy, and rapidly absorbed, leaving your skin feeling pampered and silky.

Pamper your lips with our protective lip balm, made with rich shea butter. It glides on effortlessly, providing both moisture and healing properties for soft, healthy lips.

If you're looking for an invigorating option, the Citrus Gift Pouch has you covered with Grapefruit & Mandarin Bicarb Free Deodorant, zesty Lime Lip Balm, and Uplifting Mandarin & Bergamot Body Butter. Elevate your skincare routine with Kutis – the perfect gift for yourself or a loved one. Embrace the natural beauty of Kutis and indulge in the goodness of all-natural skincare.