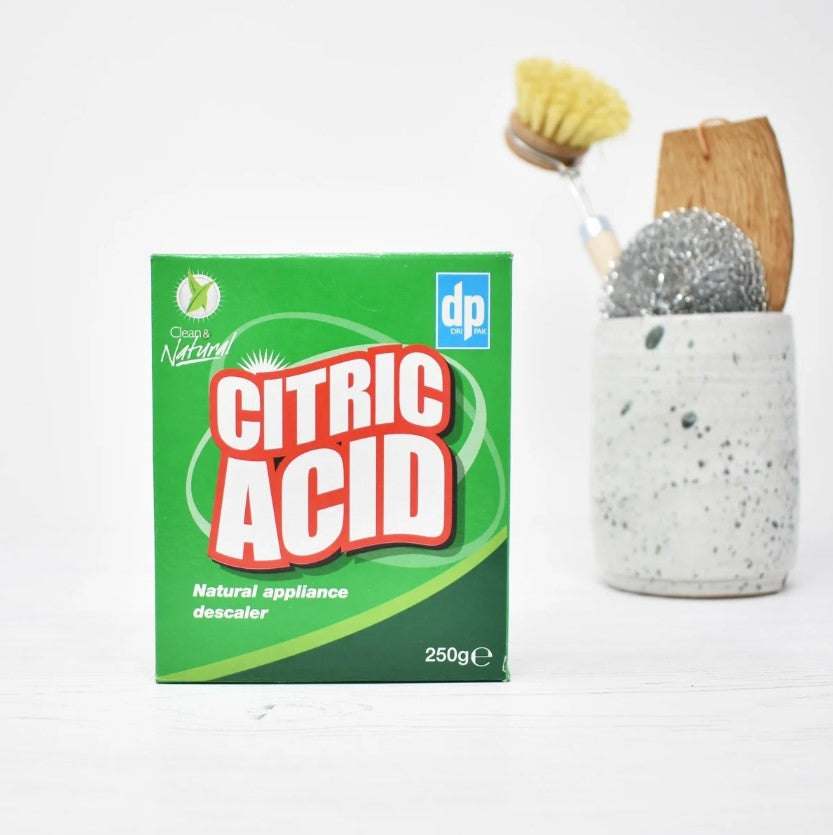 Citric Acid, weighing 250g, is a colorless and odorless compound known for its disinfectant properties against bacteria. It serves as a safer alternative to conventional disinfectants and cleaning products, such as chlorine bleach. Part of DriPak's Clean and Natural range, this descaler is derived from the natural acids found in citrus fruits. By removing limescale buildup from appliances, less electricity is required for their operation, extending their service life. Citric Acid can also be used as a substitute for white vinegar, offering environmental benefits by eliminating the need to pay for the water content that constitutes a significant portion of white vinegar.
With its countless uses, Citric Acid is an exceptional all-around product for various household applications. From descaling appliances to cleaning toilets and creating homemade dishwasher tablets and bath bombs, the possibilities for this product are truly endless.
In regions across the UK, hard water is prevalent, particularly in the eastern and southeastern parts of England. The white deposits that accumulate on kettle elements are commonly recognized as signs of limescale. Limescale can also be found on taps, showerheads, toilet bowls, and grout between tiles. Moreover, limescale can accumulate in unseen areas such as coffee machines, washing machines, steam irons, and sterilizers for baby bottles. The severity of limescale buildup increases with the hardness of the water, necessitating more frequent descaling. If left untreated, severe limescale can lead to appliance breakdown.
Descaling a kettle: Simply pour approximately a tablespoon of citric acid into the kettle and add about an inch of water, ensuring that the element or base plate is submerged. Switch on the kettle and observe the limescale fizzing as it reacts with the acid. You can turn off the kettle before it reaches boiling point. If the fizzing subsides and limescale remains, repeat the process until all limescale is removed. In most cases, a single attempt is sufficient. Discard the water and rinse the kettle a couple of times.
Toilet Bowls: Pour a bucket of hot water into the toilet bowl. Allow it to drain and then pour in another bucket of hot water. Alternatively, plunge the bowl with a toilet brush until most of the water has been removed, and then pour in a bucket of hot water. Add half a packet of citric acid; the hot water helps activate the reaction between the alkaline limescale and the citric acid, which may cause fizzing. Leave the solution for at least an hour or, preferably, overnight. Repeat the process if necessary or use a stiff toilet brush to remove the loosened limescale.
Cloudy Glasses: If your drink glasses appear cloudy, it is likely due to mineral deposits from hard water. Create a hot solution of citric acid and soak the glasses for 10 minutes before washing them as usual. If the issue persists, it is probable that the glass surface has been "etched" over time and cannot be salvaged.
Showerheads: The holes in showerheads can become easily blocked, resulting in poor water flow. If the showerhead can be removed, soak it in a bowl of hot water with citric acid for 10 minutes, then wipe it with a cloth and forcefully run water through the holes to clear any remaining limescale. If the showerhead cannot be removed, pour the hot solution into a plastic bag, secure it with an elastic band, and follow the same instructions.
Packaging: The product is packaged in a cardboard box.