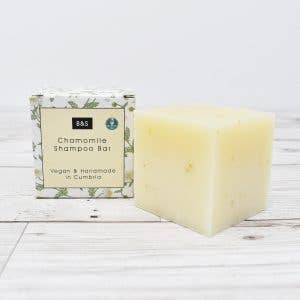 CHAMOMILE SHAMPOO BAR - BLONDE HAIR - VEGAN - 130g
Indulge in the Tranquil Beauty of Our Chamomile Infused Shampoo Bar

Experience a sensory journey like no other with our exquisite Shampoo Bars, where the soothing essence of chamomile takes center stage. This remarkable creation blends the essence of chamomile in not one, but two forms – a soothing tea and a nourishing oil infusion of the delicate flowers. Elevate your haircare ritual with a touch of luxury that's truly remarkable.

Our shampoo bar is a testament to the power of nature's finest ingredients. Immerse yourself in the embrace of sunflower oil, complemented by the richness of Raw Organic shea butter sourced from a women-led cooperative in Ghana. Enveloped in the essence of home-grown Lavender, infused Extra Virgin Olive Oil, your hair will be pampered in a symphony of botanical goodness.

At our soapery nestled in the picturesque Cumbrian countryside, every bar is crafted with love and care. We're proud to offer you a product made with 100% natural, vegan ingredients – a reflection of our commitment to your well-being and the planet.

Ingredients:
- ORGANIC Sodium Cocoate (Coconut Oil)
- Sodium Castorate (Cold Pressed Castor Oil)
- Sodium Almonrate (Sweet Almond Oil)
- Sodium Jojobaerate (Jojoba oil)
- ORGANIC Sodium Cocoate (Cocoa seed butter)
- Glycerine (Naturally occurring in the soap making process)
- Chamaemelum nobile (chamomile flowers)
- Citrus paradisi (grapefruit) essential oil

Elevate your haircare experience to new heights with our Chamomile Infused Shampoo Bar. Revel in the soothing embrace of chamomile, indulging in a sensory journey that nourishes both your hair and your soul. Discover the magic of nature's touch and uncover hair that's a true testament to the beauty of botanicals. Your journey to radiant, revitalized hair begins here – are you ready to embark?