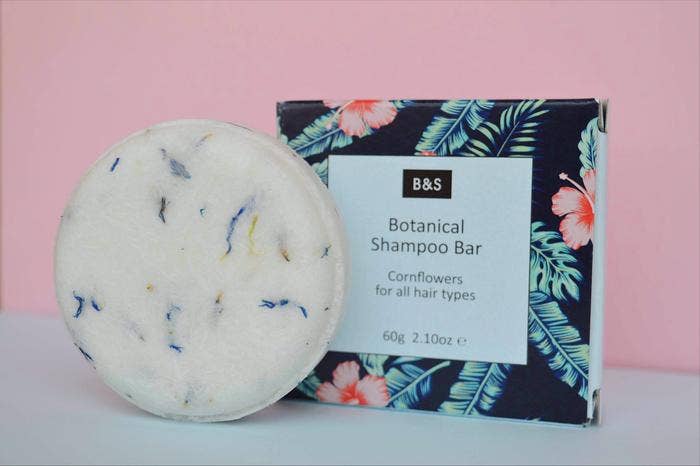 Botanical shampoo bar with cornflowers - 60g
Experience Hair Brilliance with Our Exceptional Shampoo Bars

Introducing a new era of haircare that redefines beauty – our extraordinary Shampoo Bars make achieving stunning locks an effortless luxury. Overflowing with the power of nature's finest ingredients, each bar is carefully crafted to cleanse and nourish, leaving your hair astonishingly soft, brilliantly shiny, and completely free from build-up.

Immerse yourself in the symphony of potent elements that elevate our Shampoo Bars to a realm of their own. Crafted with biodegradable surfactants derived solely from coconut, these bars offer a gentle yet thorough cleanse while maintaining the essential moisture your hair craves.

Say goodbye to the notion of transition phases – our Shampoo Bars seamlessly integrate into your routine from the very first use. Embrace the promise of effortlessly beautiful hair that's ready to shine like never before.

Transform your daily routine into a sensory indulgence with our Shampoo Bars. Experience the magic of natural ingredients that come together to create a symphony of beauty and vitality. From the moment you lather up, you'll feel the difference as your hair is enveloped in a wave of nourishment.

Unveil hair that's a testament to the power of pure, natural care. Each wash becomes a moment of sheer luxury, a transformation that transcends ordinary haircare and ushers in a new era of radiance.

Join us in celebrating the journey to hair perfection with our captivating Shampoo Bars. Embrace the fusion of nature's finest ingredients and the art of simplicity in your haircare routine. Experience the difference of a product that's as exquisite as it is effective. Your path to breathtakingly beautiful hair begins here – are you ready to indulge?