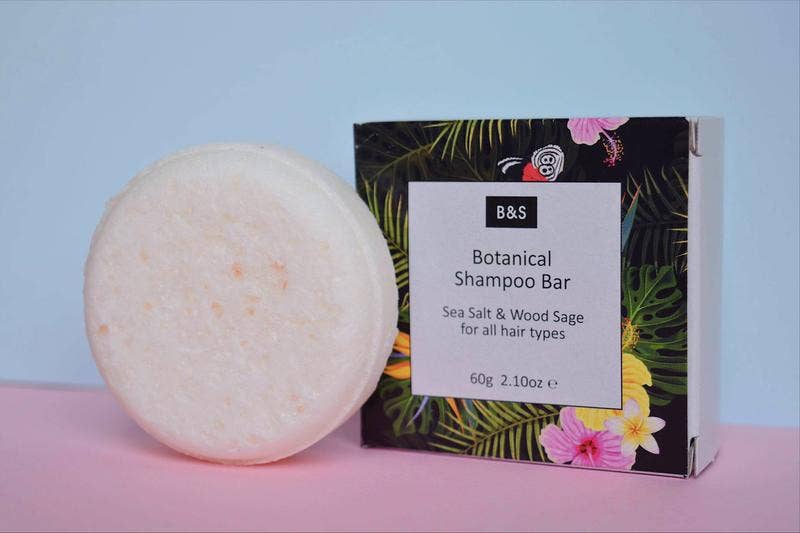 BOTANICAL SHAMPOO BAR SEA SALT & WOOD SAGE - VEGAN - 60g
Unveil the Beauty of Effortless Haircare with Our Extraordinary Shampoo Bars

Embark on a journey to luxurious locks with our exceptional Shampoo Bars – a revelation in achieving stunning hair with ease. Brimming with the potency of nature's finest ingredients, each bar is meticulously crafted to cleanse and nourish, ensuring your hair emerges as a masterpiece of softness, dazzling shine, and complete freedom from build-up.

Immerse yourself in the symphony of powerful elements that elevate our Shampoo Bars to a league of their own. Crafted with biodegradable surfactants derived exclusively from coconut, these bars offer a gentle and effective cleanse while preserving the vital moisture your hair craves.

Say goodbye to the notion of transition phases – our Shampoo Bars effortlessly integrate into your routine from day one. Embrace the promise of effortlessly beautiful hair that's ready to shine like never before.

Elevate your senses with the invigorating Sea Salt & Wood Sage fragrance that lingers with every wash, evoking the essence of coastal beauty. Delight in the indulgence of a sprinkle of sea salt, infusing your haircare ritual with a touch of elegance that mirrors the natural world.

Imagine hair that's not just soft and shiny, but a canvas of true beauty. With each lather, our Shampoo Bars offer a moment of sheer luxury, a transformation that takes your hair from ordinary to extraordinary – a testament to the magic of nature's touch.

Join us in celebrating the journey to hair perfection with our captivating Shampoo Bars. Embrace the fusion of nature's finest ingredients and the art of simplicity in your haircare routine. Experience the difference of a product that's as exquisite as it is effective. Your path to breathtakingly beautiful hair begins here – are you ready to indulge?