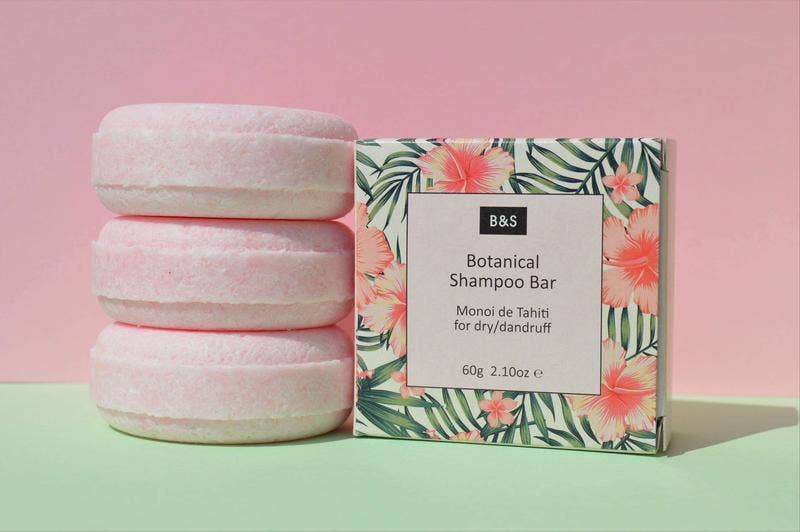 BOTANICAL SHAMPOO BAR MONOI DE TAHITI - VEGAN - 60g
Reveal the Elegance of Effortless Hair with our Enchanting Shampoo Bars

Step into a realm of haircare brilliance with our extraordinary Shampoo Bars – where achieving beautiful hair becomes a breeze. Bursting with the potency of natural ingredients, each bar is meticulously crafted to cleanse and nourish, leaving your locks irresistibly soft, exquisitely shiny, and entirely free from build-up.

Experience the fusion of power and beauty as our Shampoo Bars transport you on a journey to hair transformation. Crafted with gentle, biodegradable surfactants derived exclusively from coconut, these bars provide a thorough cleanse while preserving the delicate moisture balance your hair craves.

Leave behind the uncertainties of transition phases – our Shampoo Bars are designed to seamlessly integrate into your routine from the very first use. Embrace the simplicity of beautiful hair that's ready to shine.

Indulge your senses in the allure of Monoi de Tahiti oil, a treasure from the exotic depths of the islands. Watch as frizz surrenders to brilliance and shine, leaving your hair a testament to the beauty of nature's touch. Marshmallow oil steps in to soothe dry and itchy scalps, offering a luxurious relief that elevates your haircare experience.

Picture the transformation – hair that's soft, shiny, and full of vitality. Each wash becomes a moment of indulgence, a testament to the magic that happens when natural ingredients combine with care and expertise.

Join us on a journey to radiant hair with our captivating Shampoo Bars. Embrace the effortless elegance that comes from nurturing your locks with the very best nature has to offer. Experience the transformation that awaits – your path to beautiful hair begins here, and every wash is a step closer to the brilliance you deserve.