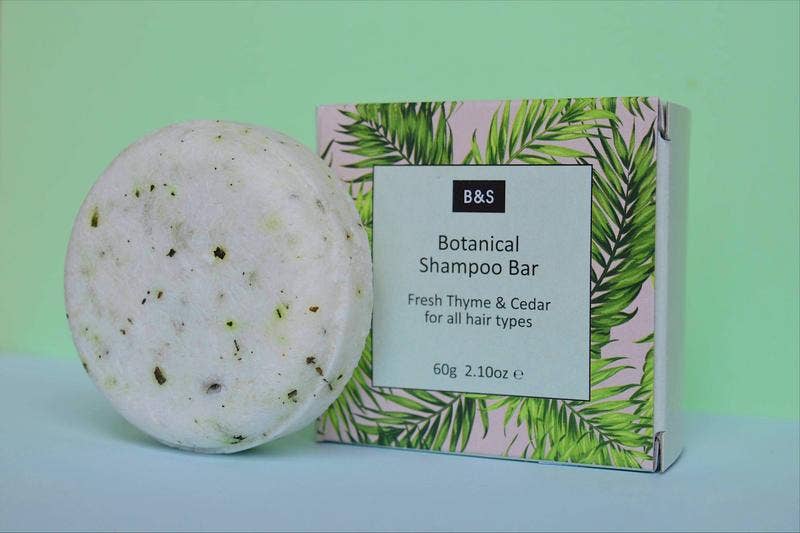 BOTANICAL SHAMPOO BAR FRESH THYME & CEDAR - VEGAN - 60g
Indulge in the Luxury of Effortless Hair Care with Our Exquisite Shampoo Bars

Experience the epitome of beautiful hair made effortless with our extraordinary Shampoo Bars. Immerse yourself in a world of potent, natural ingredients meticulously curated to cleanse and nourish your hair, unveiling locks that are irresistibly soft, brilliantly shiny, and free from any unwanted build-up.

Our Shampoo Bars are a symphony of care, a fusion of powerful elements that transform your daily hair routine into a lavish experience. Crafted with gentle and biodegradable surfactants derived solely from coconut, these bars offer a delicate dance of effective cleansing while ensuring your hair remains beautifully moisturized.

But that's not all – it's the captivating scent that truly elevates the experience. Immerse your senses in the intoxicating aroma of Fresh Thyme and Cedar. Picture a fresh woody fougere, where the herbaceous allure of thyme, rosemary, and cedar leaf interlaces with the invigorating notes of bergamot and lemon. As you move through the heart of lavender, geranium, and ylang, a warm embrace of nutmeg and cumin surrounds you. The base resonates with the richness of sandalwood, vetiver, patchouli, and moss, leaving a trace of timeless elegance in every strand.

One of the most remarkable aspects of our Shampoo Bars is their seamless transition. There's no need to worry about a transition phase – your hair care journey begins smoothly and beautifully from the very first use.

Discover the allure of effortless beauty as you embark on a journey to reveal hair that's more than just a statement – it's a work of art. With every lather, let the luxurious ingredients infuse new life into your locks, creating a sensation of indulgence that lingers long after your shower.

Elevate your hair care routine to a realm of opulence with our exquisite Shampoo Bars. Embrace the luxury of simplicity and let your hair shine with a brilliance that captures the essence of pure elegance. Experience the transformative power of our bars, where beauty is effortless and captivating, and every wash is a symphony of care.