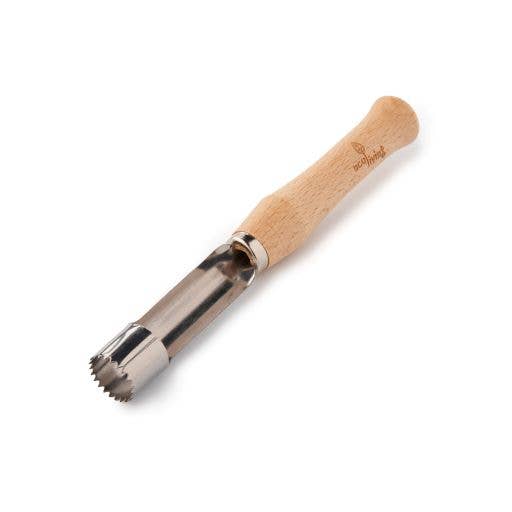 Experience the joy of preparing apples and pears in a plastic-free and eco-friendly manner with the Eco Living sustainable wooden apple corer. This environmentally conscious alternative is crafted with sustainable beech wood and stainless steel, ensuring a kinder impact on our planet.
With its serrated edge core head, the Eco Living plastic-free apple corer effortlessly removes fruit cores, leaving you with clean and perfectly prepared fruit in a matter of seconds. Elevate your kitchen with these sustainable and plastic-free kitchen utensils that contribute to a greener lifestyle.
This apple corer embodies the principles of being plastic-free, vegan, sustainable, and chemical-free. By using this utensil, you are actively reducing plastic waste and choosing an eco-friendly option.
The Eco Living wooden apple corer is versatile and can be used on various fruits, including apples, pears, and more. Enjoy the convenience of quickly removing cores, ensuring your fruit is pip-free. It's especially handy when preparing fruit salads or slicing fruit for a healthy snack.
Crafted with ethical practices in mind, this corer is made in Europe using sustainable and natural materials such as beech wood for the handle and stainless steel for the core head.
Say goodbye to plastic corers that contribute to environmental pollution and embrace this eco-friendly and plastic-free alternative. Let's work together to protect our planet.
As for packaging, the Eco Living wooden apple corer comes with a plastic-free paper label attached with string, further emphasizing its commitment to reducing waste.