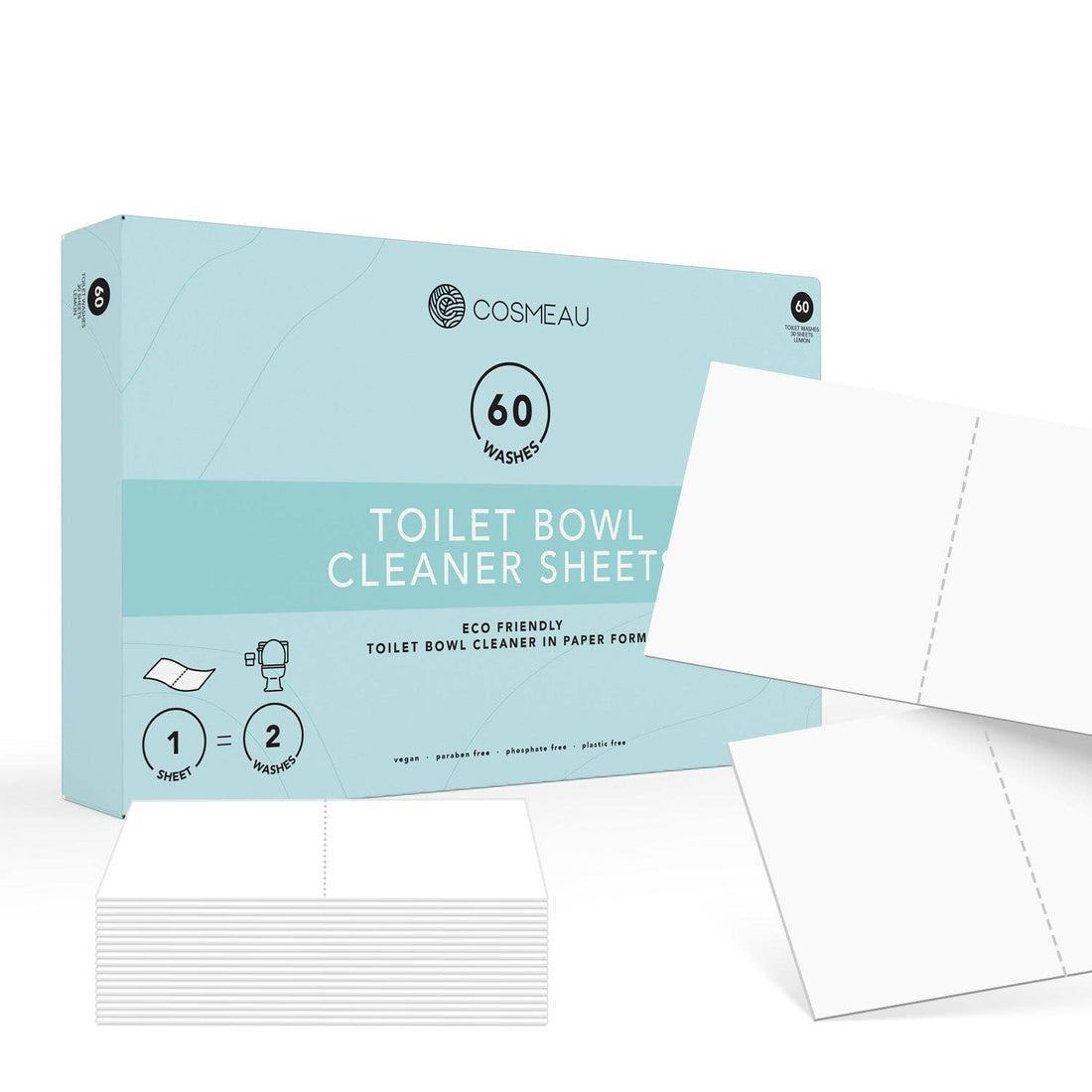 Toilet Cleaner Sheets - 60 Washes
"Introducing Cosmeau's Revolutionary Sustainable Toilet Cleaner Strips - Eco-Friendly Cleaning Made Effortless with re:gn!"

Discover the future of toilet cleaning with Cosmeau's innovative Sustainable Toilet Cleaner Strips, exclusively presented by re:gn. Embrace a greener, more sustainable approach to cleaning with our toilet cleaner strips, conveniently designed in paper form. Just as simple as placing a sheet of paper in your pot, our biodegradable strips take up little space and offer a cost-effective alternative to traditional toilet cleaners. Say goodbye to harmful chemicals and single-use plastics, and welcome a refreshing and eco-conscious solution.

Why Choose Toilet Cleaner Strips?

✔ Ultra-Concentrated Cleaning Power: Experience the unrivaled potency of our ultra-concentrated toilet cleaner strips, efficiently descaling and removing dirt and stains for a spotless toilet bowl.

✔ Environmentally Friendly Formula: Embrace a cleaner world with our formula, completely free from phosphates, bleaches, and aggressive environmentally unfriendly agents, ensuring a safe and gentle clean for your toilet and the planet.

✔ Invigorating Fresh Scent: Immerse yourself in the invigorating freshness our toilet cleaner strips leave behind, creating a welcoming atmosphere in your bathroom.

✔ Pot-Friendly and Clog-Free: Rest easy knowing our strips dissolve completely in water, preventing any clogs and ensuring they won't cause harm to your toilet, metal, or plastic parts.

✔ pH Neutral for Safety: Our toilet cleaner strips are pH neutral, providing a gentle yet effective clean without damaging your toilet.

✔ Plastic-Free Solution: Embrace a plastic-free future with our eco-friendly strips, reducing your environmental footprint one flush at a time.

How it Works - Easy and Effective Cleaning:

1. Tear off the strip along the perforated line, readying it for use.

2. Place the strip in the water of your toilet bowl, where it quickly starts to dissolve.

3. Let the strip soak for a mere 20-30 seconds, saving you time and effort.

4. Effortlessly clean your toilet bowl with your trusty toilet brush, watching dirt and stains vanish.

5. Finally, flush away the impurities or let the strip soak in further for an extra boost of freshness.

Dosage - Convenience at Your Fingertips:

One wax sheet is all you need for a powerful and effective clean, offering effortless dosing for a spotless toilet bowl every time.

Upgrade your cleaning routine with Cosmeau's Sustainable Toilet Cleaner Strips, exclusively brought to you by re:gn. Experience the ease of eco-friendly cleaning while contributing to a cleaner and greener world.

re:gn - Your Path to Greener Living, One Refreshing Flush at a Time.
At last!
This is what I have been waiting for: plastic free, hassle-free toilet cleaning. So happy with this purchase. Extremely fast and efficient delivery too.