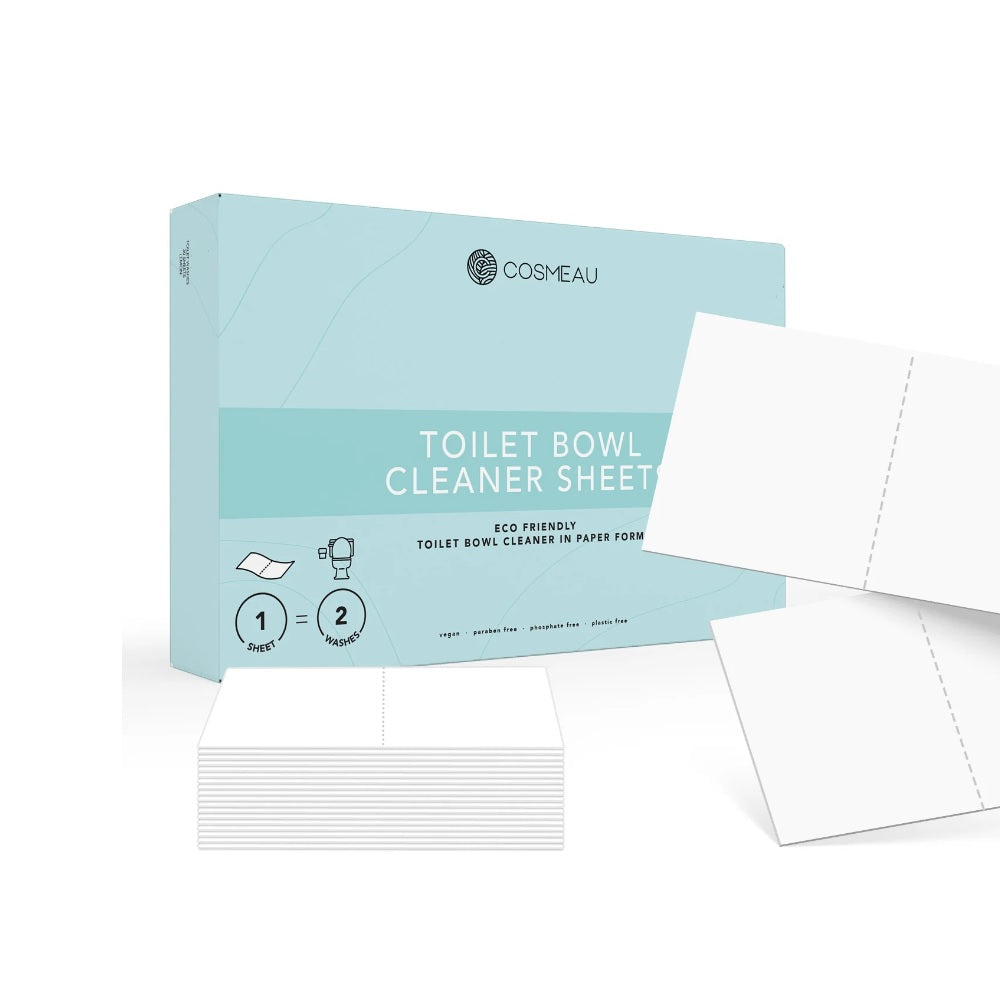 Toilet Cleaner Sheets - 20 Washes
"Introducing Cosmeau's Revolutionary Sustainable Toilet Cleaner Strips - Embrace Eco-Friendly Cleaning with re:gn!"

Experience the future of toilet cleaning with Cosmeau's innovative Sustainable Toilet Cleaner Strips, proudly presented by re:gn. Say goodbye to bulky plastic bottles and hello to an eco-conscious solution in convenient paper form. With these biodegradable, space-saving sheets, achieving a sparkling clean toilet has never been easier or more affordable compared to traditional toilet cleaners.

Why Choose Toilet Cleaner Strips?

✔ Ultra-Concentrated Cleaning Power: Our toilet cleaner strips are ultra-concentrated, effectively descaling and removing dirt and stains for a pristine toilet bowl.

✔ Environmentally Friendly Formula: Embrace a cleaner world with our formula that's free from phosphates, bleaches, and aggressive environmentally unfriendly agents, leaving your conscience as fresh as your toilet.

✔ Invigorating Fresh Scent: Revel in the uplifting freshness that our toilet cleaner strips leave behind, creating an inviting atmosphere in your bathroom.

✔ Pot-Friendly and Clog-Free: Our strips dissolve completely in water, ensuring they won't clog your pot or cause harm to your toilet, metal, or plastic parts.

✔ pH Neutral for Safety: Rest easy knowing our toilet cleaner strips are pH neutral, assuring they won't damage your toilet while maintaining their cleaning power.

✔ Plastic-Free Solution: We take pride in our commitment to sustainability, making our toilet cleaner strips entirely plastic-free, reducing your environmental impact.

How it Works - Easy and Effective Cleaning:

1. Tear off the strip along the perforated line, making preparation a breeze.

2. Place the strip in the water of your toilet bowl, where it quickly starts to dissolve.

3. Let the strip soak for just 20-30 seconds, saving you precious time.

4. Use your toilet brush to effortlessly clean your toilet bowl, witnessing the grime disappear.

5. Finally, flush away the impurities or let it soak in further for an extra boost of freshness.

Dosage - Convenience at Your Fingertips:

One wax sheet is all you need for a powerful clean, making dosing hassle-free and straightforward. Embrace simplicity with each use, and rest assured that a spotless toilet awaits.

Elevate your toilet cleaning experience with Cosmeau's Sustainable Toilet Cleaner Strips, exclusively brought to you by re:gn. Embrace eco-friendly cleaning and bid farewell to wasteful plastic bottles, one strip at a time.

re:gn - Your Path to Greener Living, One Refreshing Flush at a Time.