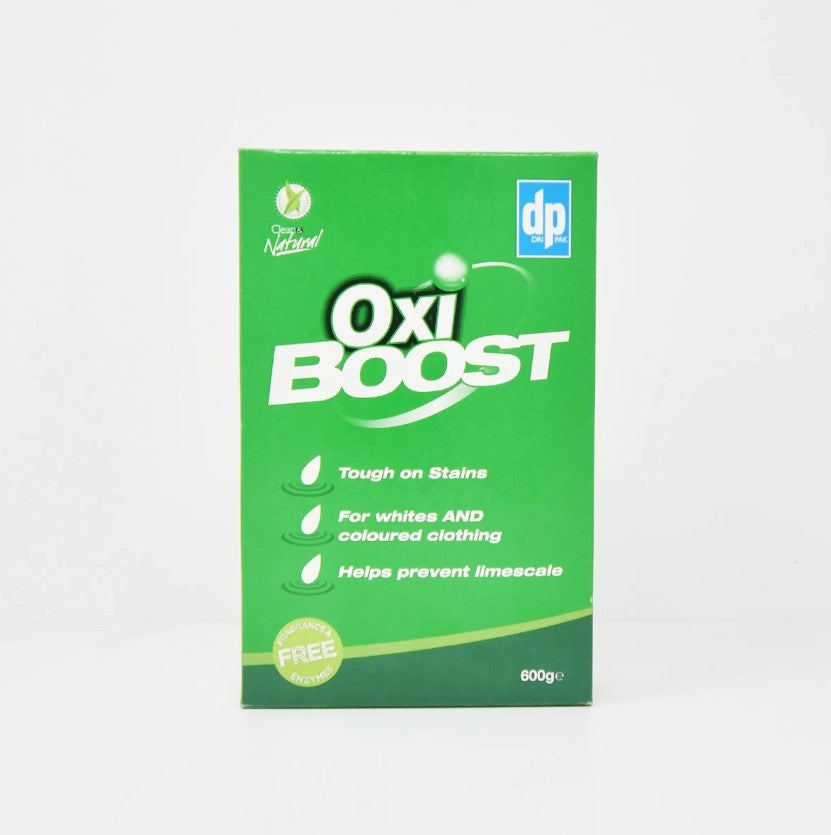 Weighing 600g, Oxi-Boost by Dripak is a powerful laundry additive that contains oxygen bleach, offering numerous benefits when used alongside your regular detergent. One of the remarkable features of Dripak Oxi-Boost is its 100% biodegradable and plastic-free composition. It serves as a highly effective stain remover and disinfectant, providing a sustainable and environmentally friendly alternative to conventional bleach.
Benefits of Oxi-Boost:
Tackles Stubborn Stains: Oxi-Boost excels at removing tough stains, helping to restore the freshness of your garments.

Maintains Whiteness: By incorporating Oxi-Boost into your laundry routine, you can keep your whites white without worrying about colors fading.

Water Softening: Oxi-Boost aids in softening water, preventing the formation of limescale during the washing process.

Gentle on Skin: Oxi-Boost is free from perfumes, fragrances, and enzymes, making it suitable for individuals with skin allergies or conditions such as eczema and dermatitis.
How to Use Dripak Oxi-Boost:
Spot Treatment: Create a paste by mixing Oxi-Boost with water, and directly apply it to the stain. Allow it to sit for at least 20 minutes before washing off.

Soak and Hand Wash: Dissolve the recommended amount of Oxi-Boost in a bowl of water at the garment's advised temperature, and let it soak for at least an hour. Additionally, you can use Oxi-Boost for hand washing your laundry if desired or necessary.

Washing Machine: Add Oxi-Boost to your regular laundry detergent. Remember to reduce the amount of detergent to the appropriate dosage for soft water. Both powder and liquid detergents can be used. If using powder, you can add Oxi-Boost together with it. However, if using liquid detergent, it is recommended to keep them separate to prevent clumping. If one is added to the drum, place the other in the detergent drawer.
Packaging: Oxi-Boost is packaged in a cardboard box.
Storage: Keep the product in a cool place out of reach of children.