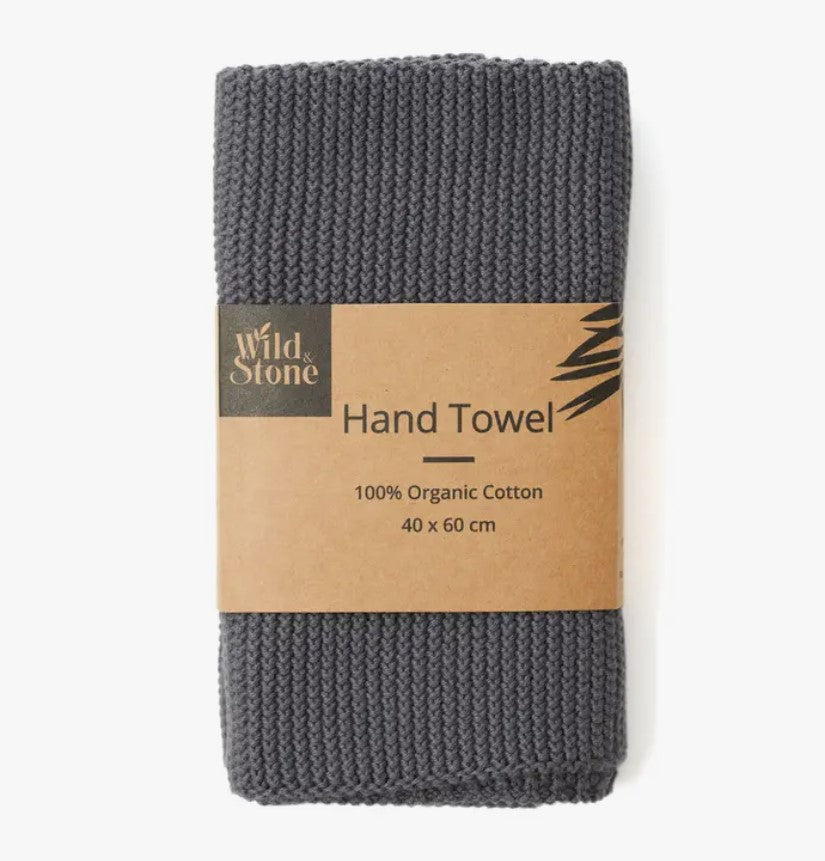 Organic Cotton Hand Towel - Slate Grey
Introducing Wild & Stone's Organic Cotton Hand Towels, the ultimate combination of functionality and sustainability for your home. These hand towels are designed to elevate your everyday drying experience while prioritizing the well-being of both the planet and your skin.

Crafted from organic cotton, these hand towels are not only highly absorbent but also incredibly soft and gentle on your hands. Say goodbye to rough and abrasive towels that can irritate sensitive skin. Our hand towels offer a luxurious touch, ensuring a pleasant and comfortable drying experience.

Beyond their exceptional performance, these hand towels are an eco-conscious choice. Once you've finished using them, you can simply cut them into strips and place them in the recycling bin. Thanks to their organic cotton composition, these towels will fully biodegrade, leaving no trace on the environment.

Wild & Stone is dedicated to providing sustainable solutions for everyday living, and our organic cotton hand towels exemplify our commitment to environmental responsibility. By choosing these towels, you actively contribute to reducing waste and promoting a greener future.

These versatile towels are not limited to the kitchen; they can also be used in bathrooms or any area where a gentle and absorbent hand towel is needed. Their neutral and timeless design effortlessly complements any home decor, adding a touch of elegance to your space.

Upgrade your home essentials with Wild & Stone's Organic Cotton Hand Towels, and enjoy the perfect blend of functionality, comfort, and eco-friendliness. Make a positive impact on the planet by choosing sustainable options that prioritize both quality and sustainability.
1 Pack
Choice of 7 colours
Dimensions: 40 x 60 cm
The useful hanging tag allows you to hang it up between uses
100% Organic Cotton
Dyed to Oeko-Tex Standard
Machine wash at 60°C
Can be tumble dried
We do not recommend using fabric softener as it reduces the towels drying abilities