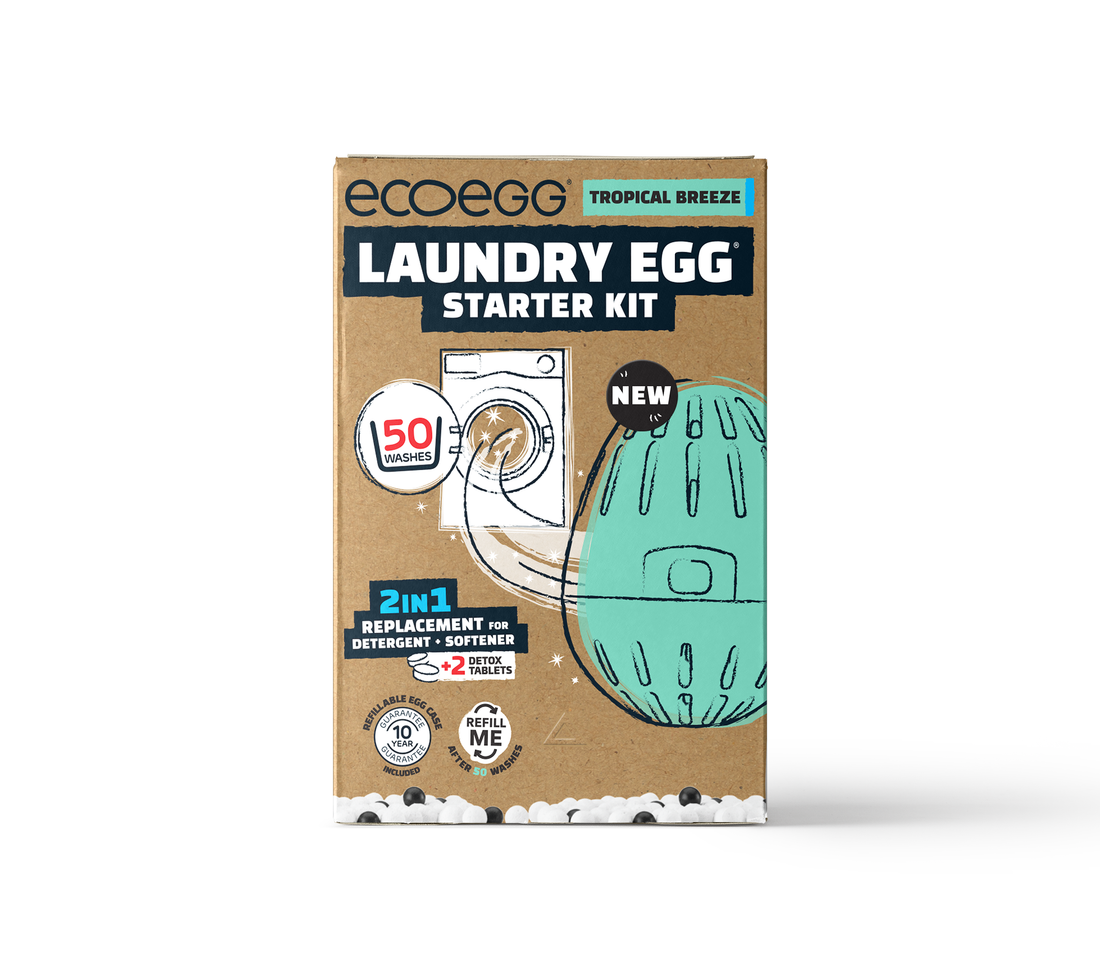 Ecoegg Laundry Starter Kit - Tropical
Introducing the Ecoegg Laundry Egg Starter Kit – the ultimate eco-friendly solution for your laundry needs! If you're ready to embark on a sustainable laundry journey, this kit is the perfect kickstart to cleaner, greener, and more efficient washing.

The star of the show is the Ecoegg Detox Tablet – a powerful cleansing agent designed to give your washing machine some well-deserved TLC. Say goodbye to bad odors and pesky limescale left behind by conventional detergents and fabric conditioners. With the detox tablet, your little laundry eggs can work their magic flawlessly on laundry day. It's super easy to use too! Just unwrap one tablet and place it in the drum of your EMPTY machine, then run the hottest and longest wash cycle (preferably at 90 degrees). No clothes are needed during the detox cycle, ensuring a thorough cleanse. For best results, we recommend detoxing your machine every month. The box contains enough tablets to keep your machine clean and optimized for up to 6 months!

Now, let's talk about the Ecoegg Laundry Egg – the game-changing 2-in-1 replacement for laundry detergent and softener. Designed to make your laundry routine as simple as can be, the Ecoegg Laundry Egg is a true hero when it comes to sustainable washing. No more lugging around heavy detergent bottles or fumbling with measuring cups. Just pop the egg into your washing machine, and you're good to go! Its innovative mineral-based technology ensures a gentle yet effective clean, leaving your clothes fresh, soft, and beautifully clean without any harmful chemicals.

By choosing the Ecoegg Laundry Egg Starter Kit, you're not only saving the environment from excess plastic waste but also saving money in the long run. With enough detox tablets to last for 6 months and the Ecoegg Laundry Egg's impressive 720-wash capacity, you're saying goodbye to frequent shopping for laundry products.

Join the eco-friendly laundry revolution today and experience a fresh, greener way of washing with the Ecoegg Laundry Egg Starter Kit. Embrace sustainability without compromising on cleanliness or efficiency. So why wait? Take the first step towards a cleaner planet and a cleaner laundry – grab your Ecoegg Laundry Egg Starter Kit now and make laundry day something you'll actually look forward to!