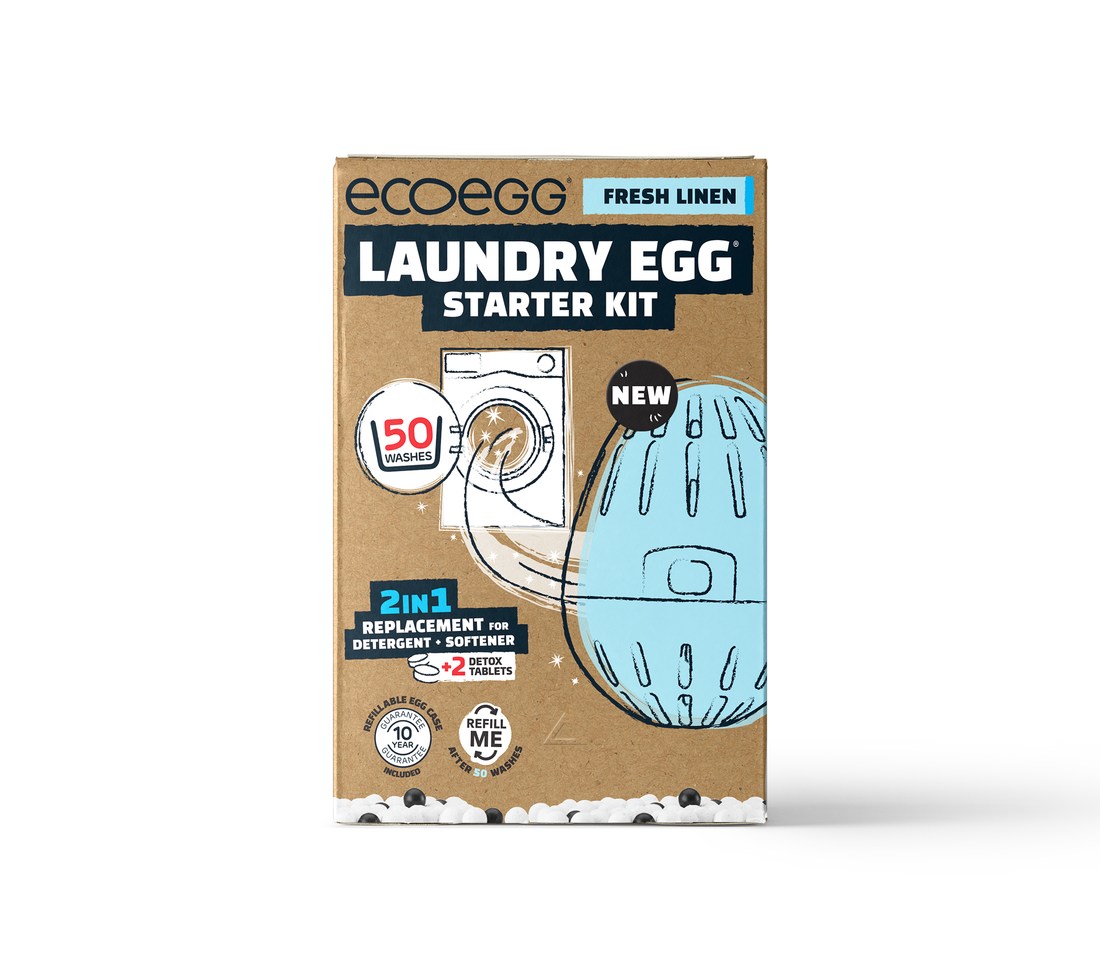 Ecoegg Laundry Starter Kit - Fresh Linen
Introducing the Ecoegg Laundry Egg Starter Kit – Your Eco-Friendly Laundry Solution!

Are you ready to embark on a journey towards a cleaner, greener, and more sustainable laundry routine? Look no further than the Ecoegg Laundry Egg Starter Kit, a revolutionary 2-in-1 laundry solution that will transform the way you do your laundry!

Kickstart your eco journey with the ecoegg Detox Tablet, specially designed for first-time ecoegg users. Our detox tablet gives your trusty washing machine the tender loving care it deserves, ensuring it operates at its best to deliver impeccable wash results. This powerful tablet eliminates bad odors and removes stubborn limescale residue from previous liquid or powder detergents and fabric conditioners, allowing our little laundry eggs to work their magic on laundry day.

Using the ecoegg Detox Tablet is simple. Just unwrap one tablet and place it in the drum of your EMPTY machine, then run your hottest and longest wash cycle, preferably at 90 degrees. Remember not to add any clothing during the detox cycle. We recommend detoxing your machine monthly to keep your washing machine pipes clean and operating efficiently. With each box containing enough tablets to last for 6 months, you'll have peace of mind knowing your machine is in tip-top shape.

Now, let's talk about the star of the show – the ecoegg Laundry Egg! Say goodbye to traditional laundry detergents and softeners and welcome this game-changing 2-in-1 laundry marvel into your home. The ecoegg Laundry Egg combines the power of a detergent and softener, making it the ultimate laundry companion that will leave your clothes clean, fresh, and oh-so-soft to the touch.

But that's not all – the ecoegg Laundry Egg is a champion of the environment too! Our eco-friendly formula contains no harmful chemicals, phosphates, or harsh substances, ensuring that your laundry routine is safe for your family and gentle on Mother Earth. With every wash, you contribute to a brighter, cleaner future for our planet.

Each ecoegg Laundry Egg Starter Kit includes everything you need for a delightful laundry experience – one ecoegg Detox Tablet and our revolutionary laundry egg that will last for an impressive 50 washes. Imagine saving money and the environment with just one laundry egg!

So, why wait? Embrace the ecoegg Laundry Egg Starter Kit and take the first step towards a cleaner, greener, and more sustainable laundry routine. Let's make a difference together, one laundry load at a time. Join the ecoegg revolution today!