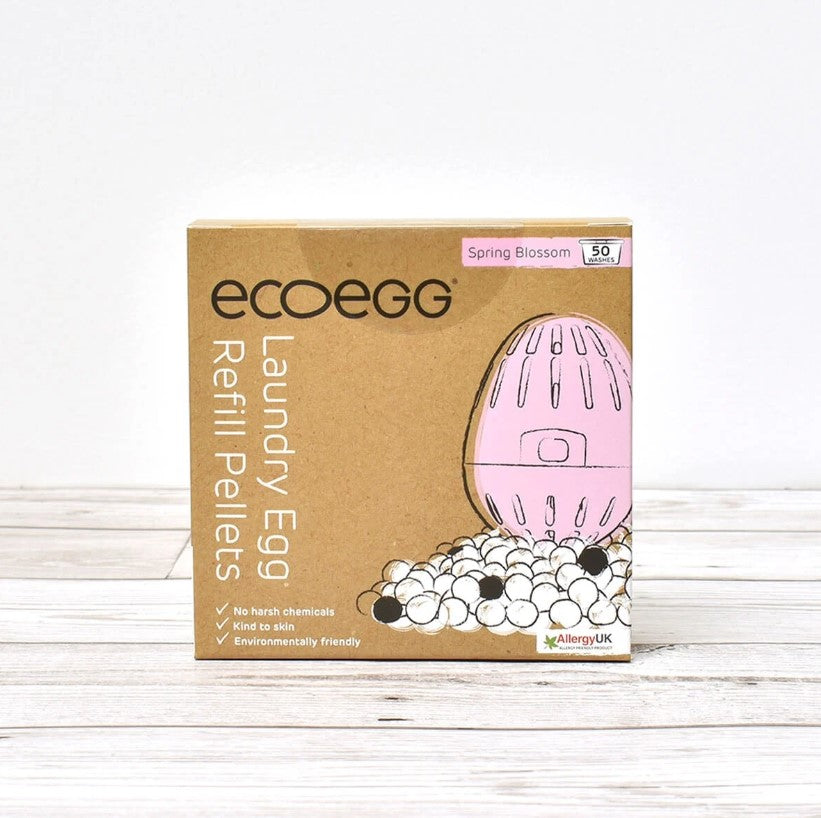 ECOEGG Laundry Egg Refill - Spring Blossom
Introducing the Ecoegg Laundry Egg Refill Pack in the enchanting Spring Blossom scent, the perfect solution for a greener and fresher laundry routine. With these refills, you can continue using your Laundry Egg for up to 10 years, ensuring a cost-effective and eco-conscious choice.

Each pack offers 50 washes at just 10p per wash and includes two white pellet packs and one black (tourmaline) pellet pack. Simply insert the entire refill pack into your ecoegg Laundry Egg, and you're all set to experience the delightful Spring Blossom aroma.

These refills not only contribute to sustainability but also feature a gentle and hypoallergenic formula without any harsh chemicals. Your family's laundry needs will be safely and beautifully met with the Ecoegg Laundry Egg Refill Pack, now available in the refreshing Spring Blossom scent. Make the switch today and embrace a more eco-friendly and pleasantly scented laundry routine.
To use the Laundry Egg, start by opening it and filling the larger half with the two types of mineral pellets. Close the egg securely until it clicks, and then place it on top of your laundry inside the washing machine.
The mineral pellets work in conjunction with the water to effectively remove dirt from your clothing fibers and help soften your clothes by adjusting the pH level. This process leaves your laundry feeling clean and fresh without the use of harsh, chemical-filled detergents. The Ecoegg laundry egg can also be used for hand washing. To do this, just let the egg soak in water for 5-10 minutes before washing your clothes as usual.
The Laundry Egg is effective at temperatures ranging from 15 to 60 degrees Celsius, and the mineral pellets it contains are non-biological and free of petrochemicals, enzymes, bleaches, phosphates, parabens, SLS/SLES, palm oil, and microplastics.

You can find the complete instructions here.