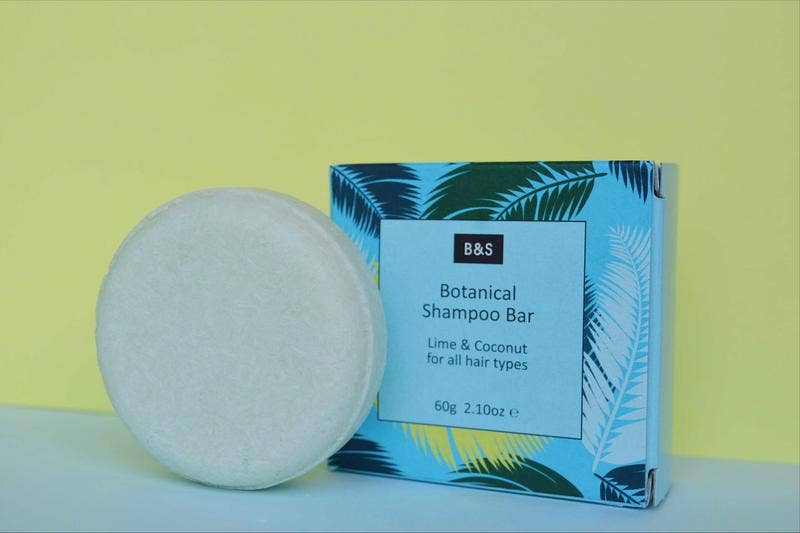 BOTANICAL SHAMPOO BAR LIME & COCONUT - VEGAN - 60g
Unlock the Secret to Effortlessly Gorgeous Hair with Our Remarkable Shampoo Bars

Introducing a haircare revolution that redefines beauty – our extraordinary Shampoo Bars are here to make your hair journey a breeze. Overflowing with the prowess of nature's finest ingredients, these bars are meticulously crafted to cleanse and nourish, ensuring your locks emerge luxuriously soft, brilliantly shiny, and absolutely free from build-up.

Embark on a sensory journey as you immerse yourself in the fusion of gentle yet powerful elements that make our Shampoo Bars a true indulgence. Crafted with biodegradable surfactants derived exclusively from coconut, these bars offer a thorough cleanse while preserving the essential moisture your hair craves.

Bid farewell to the uncertainty of transition phases – our Shampoo Bars are designed to seamlessly integrate into your routine from day one. Begin your hair transformation journey effortlessly and enjoy the beauty that's ready to unfold.

Experience the magic of Lime essential oil and a coconut fragrance that's allergen-free, enchanting your senses with every wash. Picture the invigorating zing of lime harmonizing with the exotic allure of coconut, leaving behind a delicate aroma that's as enchanting as it is refreshing.

Revel in the simplicity of achieving beautiful hair as you embrace the power of our Shampoo Bars. Crafted with care, these bars offer an experience that goes beyond cleansing – they create a moment of indulgence that leaves you with hair that's not just soft and shiny, but also a testament to the beauty of natural ingredients.

Join us on a journey to hair perfection with our sensational Shampoo Bars. Immerse yourself in the transformative power of nature's finest as you uncover hair that's a statement of timeless elegance. Experience the difference of a product that's as exquisite as it is effective. Your path to beautiful hair begins here – are you ready to indulge?