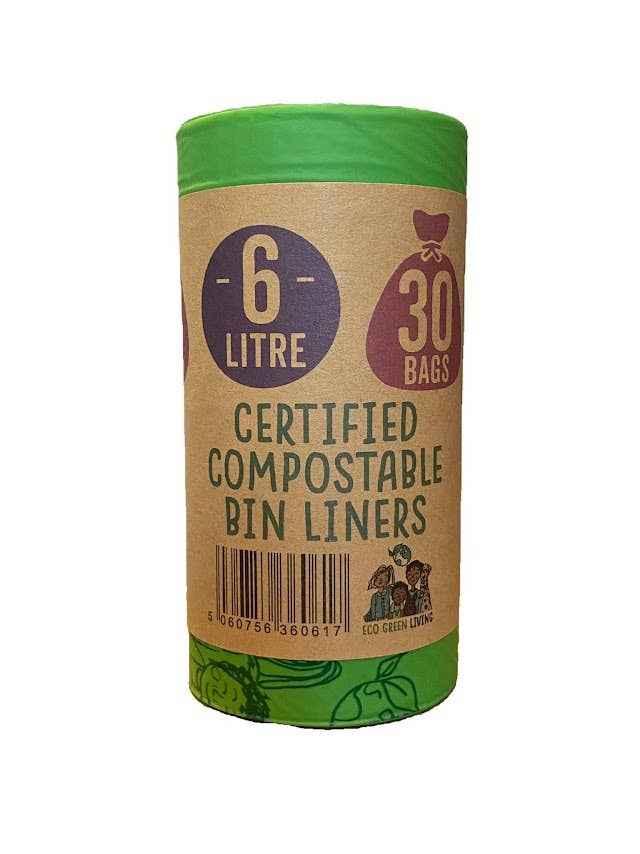 6 Litre Compostable Caddy Bags – 30 Bags
Introducing Eco Green Living's 100% Compost Friendly Caddy Bags – Embrace a Greener Tomorrow!

With 30 bags in a single roll, our caddy bags are the epitome of eco-friendliness. Crafted from corn starch, they undergo a miraculous transformation, turning into compost within months, not lifetimes. Say goodbye to unrecycled plastic, which contributes nearly 730,000 tons of garbage annually, taking centuries to decompose. Our breathable bags allow moisture into organic food waste, accelerating the natural degradation process.

Expect exceptional durability as our caddy bags match other top brands in holding heavy trash, but without any ecological waste! Strengthened yet lightweight, each garbage bag is 17 microns thick, ensuring they are robust and compost-friendly. With a total of 120 bags, they are ideal for 6L caddies.

Our commitment to sustainability is evident in every aspect, as our caddy bags are entirely plant-based. Corn starch, a remarkable polymer, transforms into all-natural plastic with the right amount of heat and water. Rest assured, our bin liners and caddy bags are certified to the stringent EN13432 and ASTM D6400 standards and contain no harmful microplastics.

Choose Eco Green Living's Compost Friendly Caddy Bags today and embark on a journey of conscious waste management. Embrace the power of composting, and together, let's protect our planet for generations to come. Join the movement toward a greener tomorrow, one caddy bag at a time.