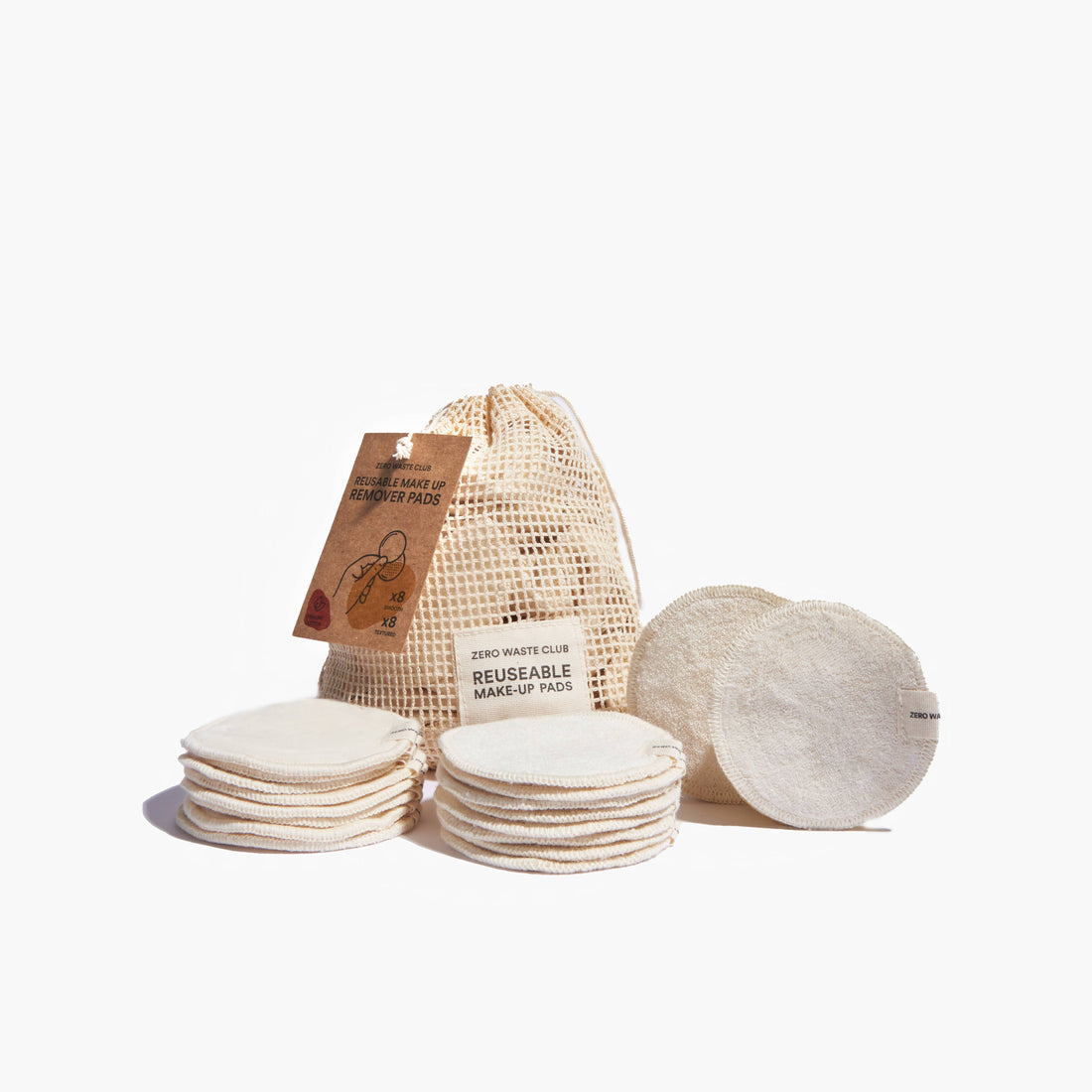 Reusable Organic Cotton Makeup Remover Pads - Pack of 16
Introducing our sustainable and eco-friendly alternative to single-use makeup removers - the Organic Cotton Makeup Remover Pads! Make the switch today and embrace a more conscious beauty routine while contributing to a greener planet.

Each pack includes 16 luxurious cream-colored pads, specifically designed to elevate your makeup removal experience. The set consists of 8 soft cotton pads for gentle everyday cleansing and makeup removal, and 8 rough cotton pads, perfect for tackling stubborn makeup and deep-cleaning.

Crafted from the finest organic cotton, these reusable pads not only pamper your skin but also minimize waste, making them an ideal choice for environmentally-conscious individuals like you. The 'Rough' pads, made with Terry Organic Cotton, effortlessly remove even waterproof makeup, leaving your skin feeling fresh and revitalized. Meanwhile, the 'Soft' pads, delicately crafted with Velour Organic Cotton, offer a soothing touch for your daily cleansing routine.

To ensure convenience and practicality, each purchase comes with a 100% cotton wash bag. This wash bag allows you to keep your pads organized and ready for use, making them an excellent travel companion during holidays or a thoughtful addition to your Christmas gift list.

With pads approximately 7.5cm in diameter and the wash bag measuring 18cm long x 15cm wide, you can enjoy a generous supply that lasts for an extended period, further reducing the need for disposable wipes.

Embrace sustainability, indulge in luxury, and cherish your skin with our Organic Cotton Makeup Remover Pads. Join the growing community of conscious consumers who are making a positive impact on the environment, one beauty product at a time.

Make a conscious choice today, and elevate your beauty routine with these organic and reusable makeup remover pads. Order now and experience the joy of sustainable living while pampering yourself guilt-free. Ideal for gifting to loved ones during the holidays, these pads are not just a beauty essential; they are a statement of care for our planet.

Take the first step towards a greener future and add these must-have makeup remover pads to your cart now!