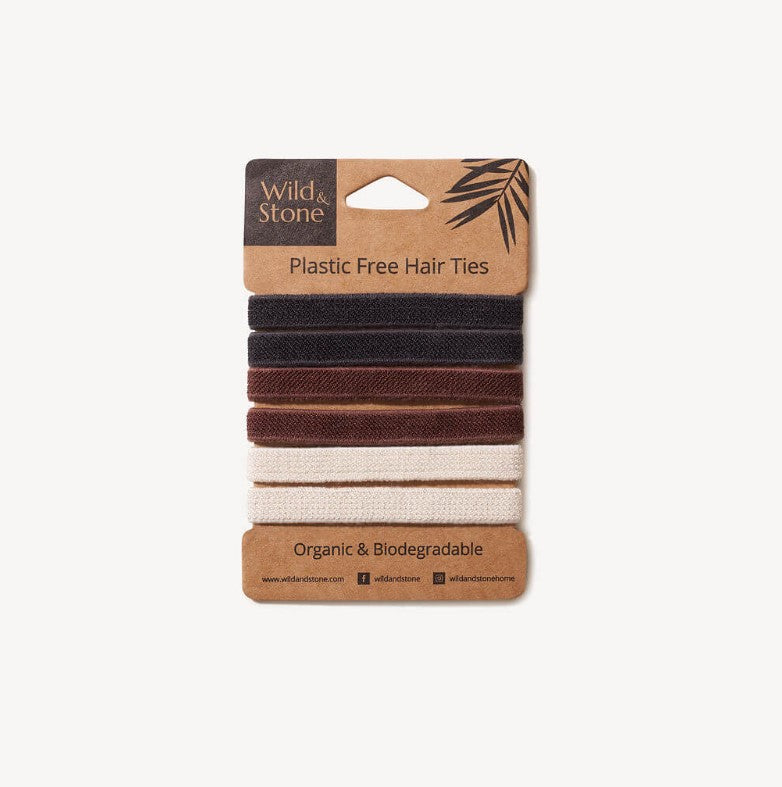 6 Pack Plastic Free Hair Ties – Natural
Introducing Wild & Stone's pack of 6 natural hair ties, crafted from 100% organic cotton and natural rubber. Embrace sustainable hair care with these completely biodegradable hair ties that help keep your hair looking tidy. Say goodbye to plastic waste, as our hair ties are designed to decompose harmlessly, unlike conventional hair ties that take hundreds of years to break down.
Suitable for all hair types, whether straight or curly, long or short, thick or thin, our hair ties are versatile and reliable. The organic cotton used is strong enough to hold even thick hair firmly in place, without causing any discomfort.
Unlike traditional hair ties with metal components that can damage hair, our hair ties are metal-free, minimizing breakage and split ends. The stretchy elastic ensures a secure hold for daily and active use, while the soft cotton material leaves no dents or deformations in your hair.
In line with our commitment to sustainability, our packaging is made from recyclable kraft material, reducing further environmental impact. Choose Wild & Stone's natural hair ties for an eco-conscious and hair-friendly choice.
- 6 x 100% Organic and Biodegradable Hair Ties per set
- 100% Organic Cotton
- Natural Plant-Based RubberNo Plastic, NO Metal
- 100% Biodegradable
- Recyclable Kraft Packaging
Great for every hair type
The organic cotton is strong enough for thick hair but soft enough not to cause headaches. They are perfect for every hair type, whether you have straight or curly hair, long or short hair, thick or thin hair, these ties are ideal for everyone, they are the only hair elastics you'll ever need!
Protect your locks
The stretchy elastic holds tight for daily use as well as for heavy sports use, the soft cotton leaves no dents or deformations on the hair, designed with no metal to reduce pull on the hair, decreasing breakage and split ends.