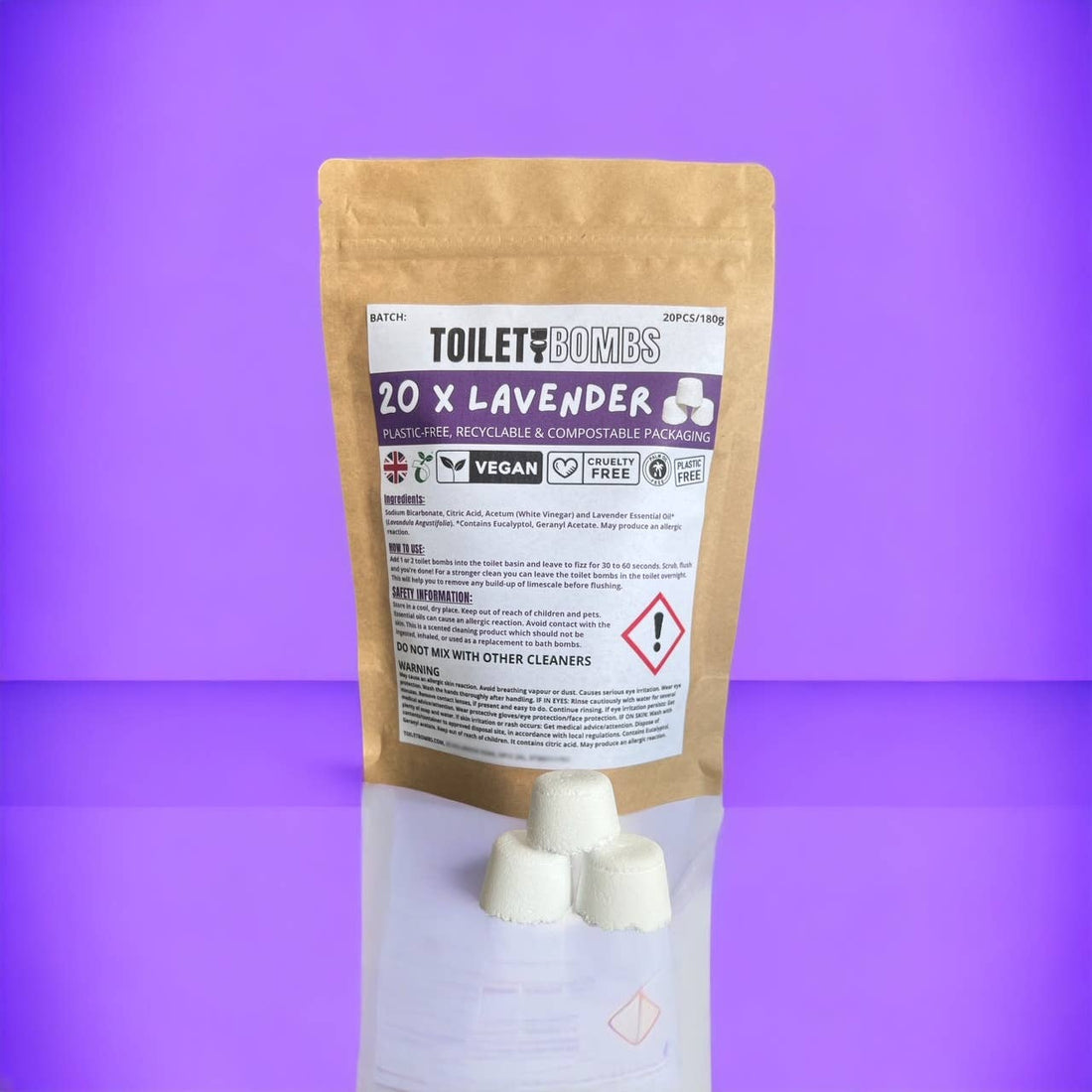 20x Toilet Refresher Bombs - Lavender
Introducing our natural toilet refresher bombs, the perfect way to freshen up your toilet while maintaining an eco-friendly lifestyle! Proudly made in the UK, these refresher bombs are crafted using non-toxic, vegan ingredients, ensuring a green and sustainable choice for your home.
We believe in creating products that are not only effective but also environmentally conscious. That's why our toilet refresher bombs are free from harmful substances like SLS, BPA, and palm oil. With our commitment to preserving nature, you can confidently enhance the atmosphere of your bathroom without compromising your values.
Our refresher bombs are not limited to toilet bowls alone; they can also invigorate your drains, leaving them smelling fresh and clean. Simply drop one bomb into the toilet or drain basin, and let the magic happen! While these fizzies work wonders, we recommend combining them with a thorough scrub for optimal results. Harnessing the power of citric acid and sodium bicarbonate, well-known for their natural cleaning properties, our refresher bombs deliver an extra boost to your regular cleaning routine.
It's important to note that our product is specifically designed to refresh and revitalize, rather than provide a deep clean. Hence, we aptly named them 'refresher bombs' rather than 'cleaning bombs.' However, when used alongside regular cleaning practices, they can significantly enhance the overall cleanliness and fragrance of your bathroom.
We are committed to sustainability beyond the product itself. Our refresher bombs come packaged in a reusable, resealable, and recyclable pouch, meeting the EN 13432-2000-12 compostability standards. By choosing our product, you're not only making your bathroom smell delightful but also contributing to a healthier planet.
Experience the refreshing power of our natural toilet refresher bombs and transform your bathroom into a fragrant oasis. Indulge in the delightful scents and the peace of mind that comes from using a product that aligns with your values. Elevate your daily cleaning routine with our eco-friendly solution and enjoy a fresher, greener home.