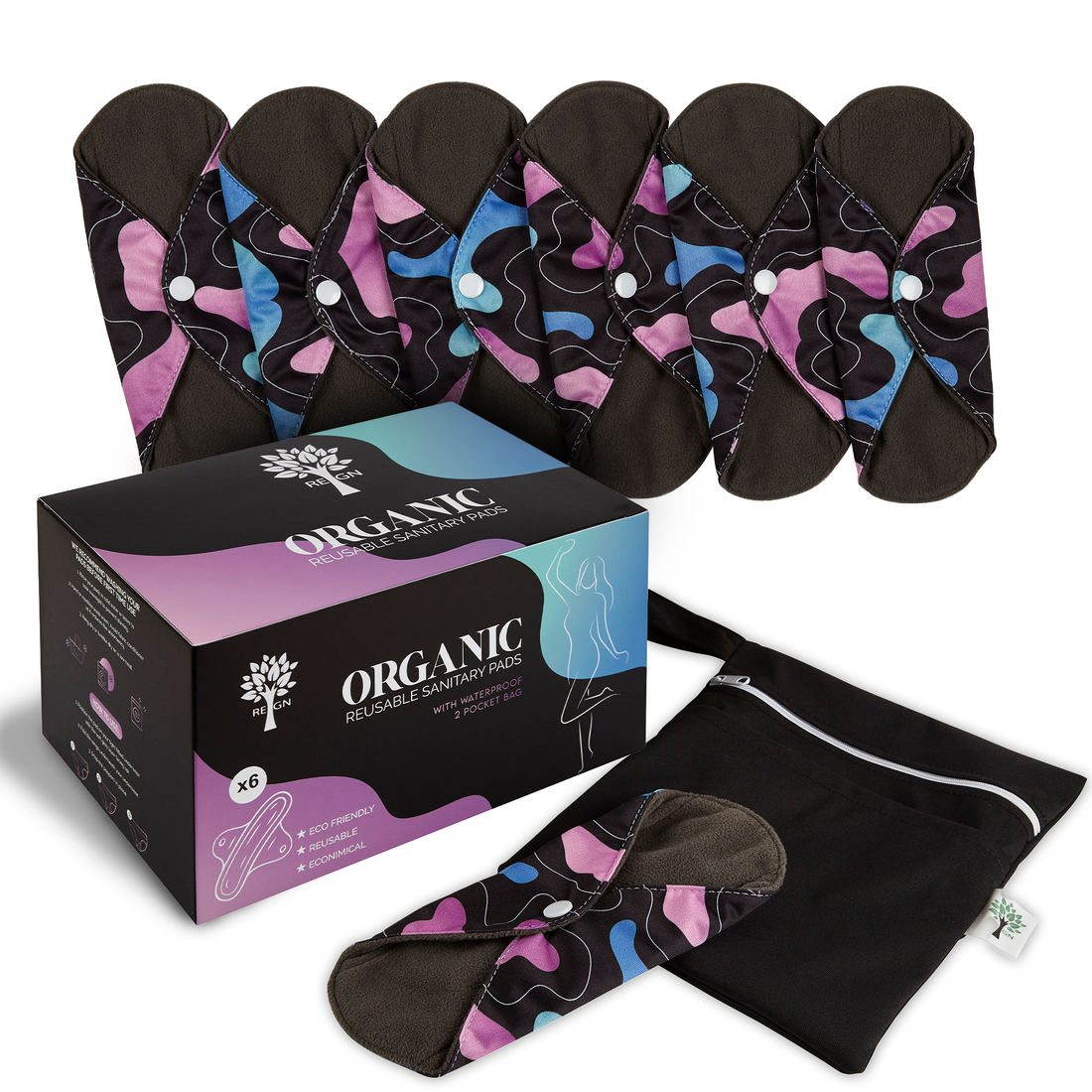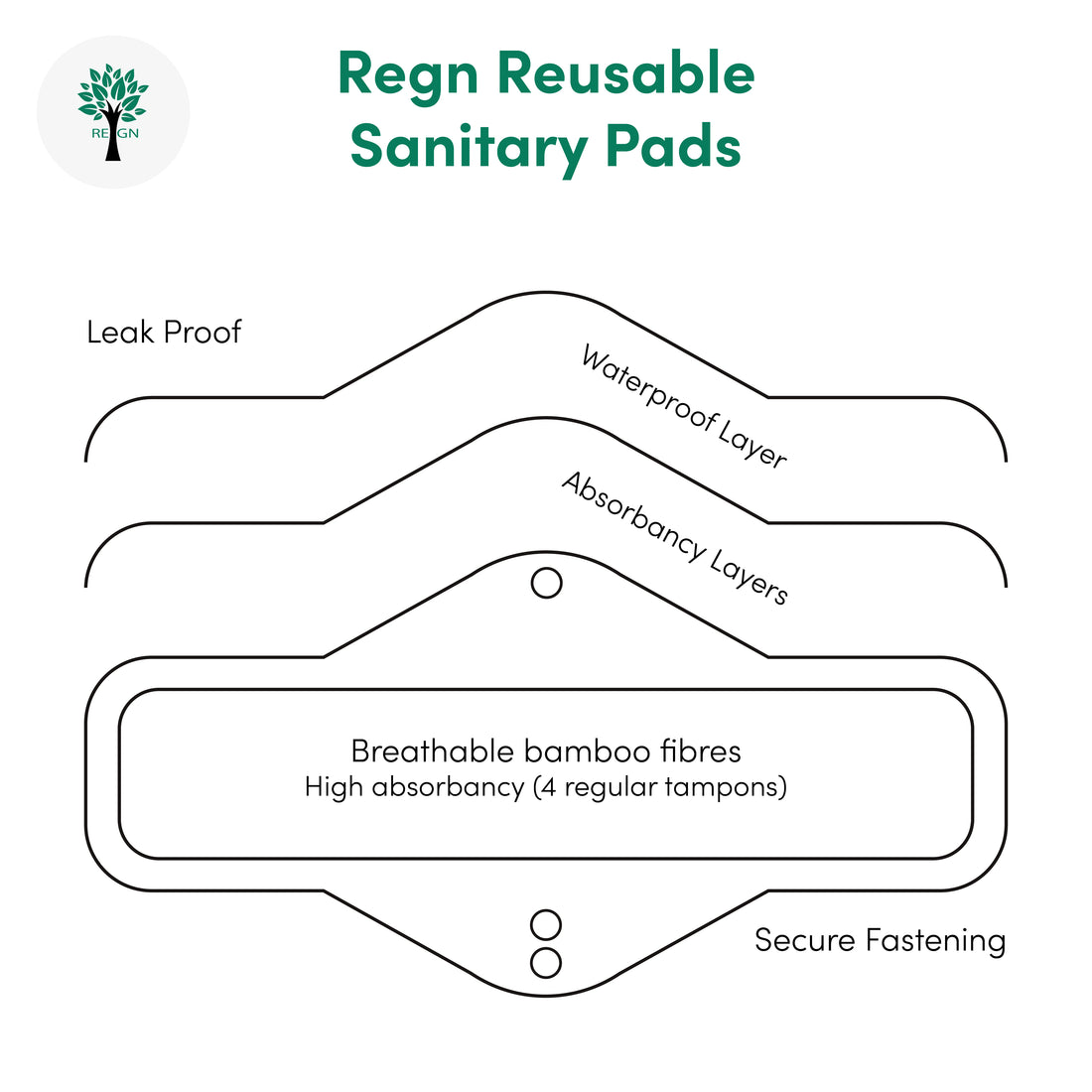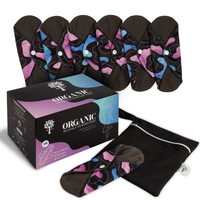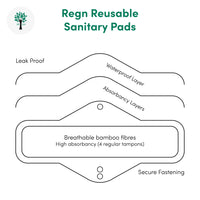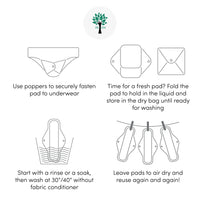 Reusable Sanitary Pads 6Pk - 3 Sizes Available
Say goodbye to single-use period pads and switch to Re:gn's reusable sanitary pads for a sustainable and comfortable period.

Our washable sanitary pads are an easy-to-use and cost-effective alternative to traditional single-use pads without sacrificing performance.

Re:gn Reusable Sanitary Pad is the perfect solution for those looking for an eco-friendly, organic alternative to traditional disposable menstrual pads.

The slim, comfortable fit and secure popper fastening offer peace of mind both day and night. The natural bamboo fleece top layer ensures that there are no harmful materials next to your skin, and the unique stay-dry binding keeps everything contained and away from your clothing for leak-free protection.

All of our reusable sanitary pads are OEKO and GOTS certified, so you can trust in the safety and non-toxicity of the product.
Each pack includes:
- 6pads 
- Dual zip storage bag
- Washbag
- Pantyliner / Light Flow 22cm
- Medium Flow 25cm
- Heavy Flow 30cm
- Rinse until water is clear
- Add to your normal 40 degrees machine wash 
- Simply air dry inside or outside
A game changer!
I've been desperate to find a way to make my sanitary pad use more eco-friendly. I wasn't expecting perfection because my main aim is to stop using plastic so I would have made a few sacrifices. This is the first month of using the pads and they have been really good! No sacrifices needed. Really comfortable and can be worn for a day (in my experience) as super absorbent. They are a little bulkier than a normal pad but I don't think that makes any real difference and they can sometimes move around but they are so easy to adjust - and far easier than a pad once it's actually stuck down! Washed and tumbled dried with no issues. Very happy!
Amazing
Wasn't sure what to expect as never bought this type before but really happy that I have, very satisfied with them. Easy to wash too.
Wonderful
This is the first time I have ever bought reusable sanitary pads, despite considering them for a while. For me personally they were something I wanted to invest in as a way to lower my negative environmental impact and to also avoid using chemical ridden sanitary supplies. I have to say, I am incredibly pleased with the entire process at reign and so glad I invested from this company.
Not only was it really easy to understand sizing, the order was processed incredibly quickly, and the pads actually look really pretty too in addition to coming with a functional storage bag and mesh washing bag. In my eyes, worth every penny!
Why didn't I get these earlier?
Amazing! I am so impressed! I suffer from heavy flow, constantly worried about leaving home because of leakage. Particularly overnight. But none. Also no smell. I have been so impressed, literally I changed 2- 3 times a day. Thank you I can't explain how much this has changed my life!
So happy!
I am so pleased with this product. It is well-made and I believe it is durable.
I've been using these pads (6pk - Heavy Flow) for about 3 months now and I'll never go back. I have had really painful, disruptive and disturbing periods since my early teens with extremely heavy bleeding but this has genuinely helped.
I usually get leaks but I have not experienced that with these pads; they don't smell and they also do not have the horrid smell that disposable pads have. It has made that time of the month a little more bearable and I genuinely look forward to having to use them. Follow instructions/care, they wash extremely well (both hand-washing and machine-washing).
I'll be buying a box for my goddaughter and I have already raved about it to my friends. For me, it is a bonus that it is a zero waste option. Thank you so much regn.