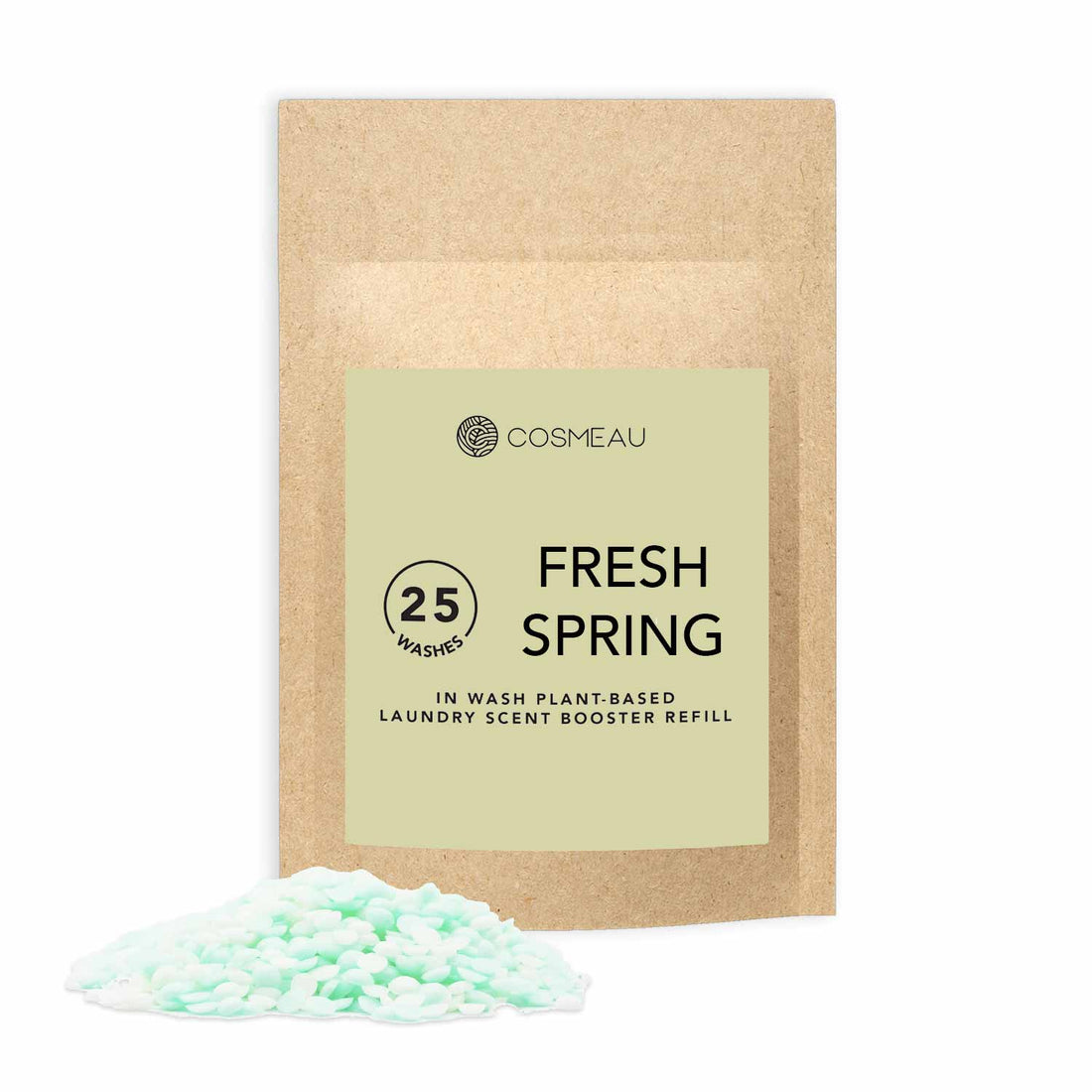 Refill Laundry Scent Booster - Fresh Spring
"Experience the Magic of Spring-Freshness with Cosmeau's Eco-Friendly Fragrance Booster - Your Ultimate Eco-Conscious Laundry Essential, Exclusively at re:gn!"

Elevate your laundry routine with Cosmeau's Environmentally Friendly Fragrance Booster, a captivating scent enhancer that promises an unforgettable spring-fresh experience! Designed with the planet in mind, this fragrance booster is your ticket to up to 12 weeks of delightful fragrance, thanks to our innovative dual-fragrance technique. Feel the burst of freshness as retained micro-scent capsules activate during clothing friction - from your casual stroll to your invigorating exercise session.

Key Features for a Greener World:
✔ In-Wash Fragrance Booster - Spring-Fresh: Infuse your laundry with the essence of spring, as our in-wash fragrance booster works its magic on your clothes.

✔ Made from Corn Starch and Vegan: Embrace sustainability with confidence, knowing our fragrance booster is thoughtfully crafted from corn starch and is completely vegan.

✔ Convenient Measuring Cup in Cap: Enjoy effortless dosing precision with our included measuring cup, always at your fingertips.

✔ Long-Lasting Fragrance: Revel in up to 12 weeks of continuous fragrance, ensuring your clothes are enveloped in the irresistible allure of spring.

✔ Simple Application: Elevate your laundry experience by placing the fragrance booster pearls directly into the empty drum before loading your laundry - it's that easy!

✔ The Perfect Pair - Cosmeau Laundry Strips: Achieve a truly plastic-free wash by combining our fragrance booster with Cosmeau laundry strips - a sustainable laundry power duo.

✔ Customizable Fragrance Intensity: Take control of your scent journey by adjusting the amount of fragrance booster, tailoring it to suit your unique preferences.

✔ Embrace Plastic-Free Packaging: At re:gn, we are committed to a greener future - our fragrance booster comes in eco-friendly packaging, without any unnecessary plastic.

How it Works - Unveiling the Enchantment:
With every step you take and every movement you make, the friction between your clothes awakens the retained micro-scent capsules in our fragrance booster. Witness the magic of spring-freshness come to life, leaving you with an irresistible aura of freshness that lasts.

Discover a laundry experience like never before with Cosmeau's Eco-Friendly Fragrance Booster, available exclusively through re:gn. Embrace nature's embrace and let the essence of spring accompany you on every laundry journey.

re:gn - Your Gateway to Greener Living, One Fresh Scent at a Time.