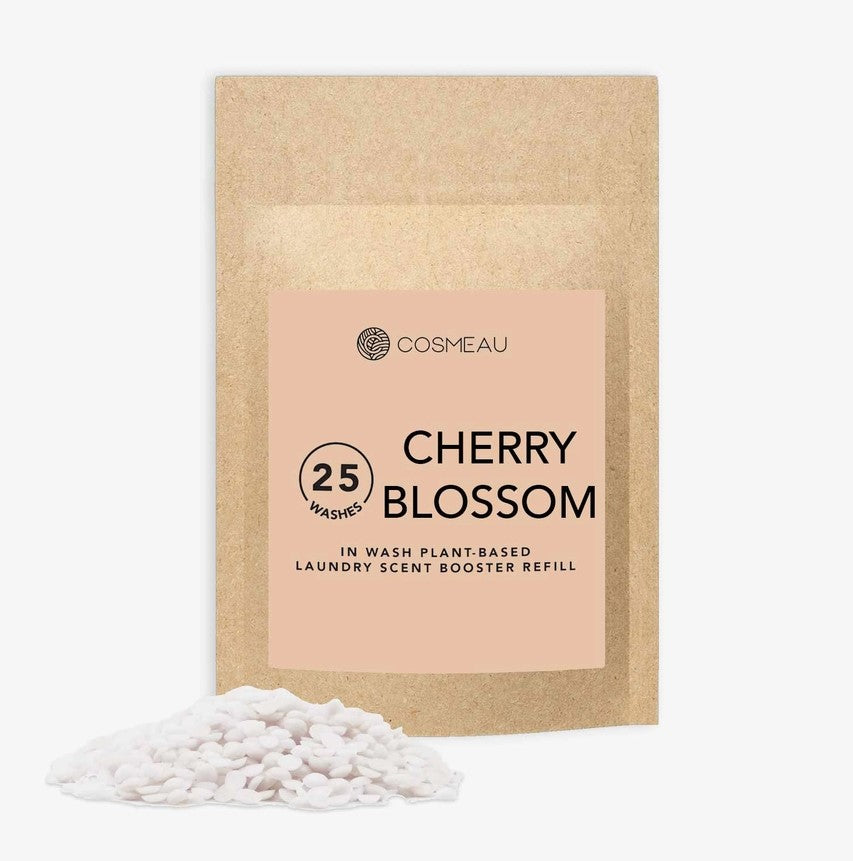 Refill Laundry Scent Booster - Cherry Blossom
"Experience the Enchantment of Cherry Blossom Scent with Cosmeau's Eco-Friendly Fragrance Booster - Your Ultimate Eco-Conscious Laundry Essential, Exclusively at re:gn!"

Elevate your laundry routine with Cosmeau's Environmentally Friendly Fragrance Booster, a captivating scent enhancer that promises an unforgettable cherry blossom experience! Designed with the planet in mind, this fragrance booster is your ticket to up to 12 weeks of delightful cherry blossom fragrance, thanks to our innovative dual-fragrance technique. Feel the burst of cherry blossom freshness as retained micro-scent capsules activate during clothing friction - from your leisurely stroll to your invigorating exercise session.

Key Features for a Greener World:
✔ In-Wash Fragrance Booster - Cherry Blossom Scent: Infuse your laundry with the essence of cherry blossoms, as our in-wash fragrance booster works its magic on your clothes.

✔ Made from Corn Starch and Vegan: Embrace sustainability with confidence, knowing our fragrance booster is thoughtfully crafted from corn starch and is completely vegan.

✔ Convenient Measuring Cup in Cap: Enjoy effortless dosing precision with our included measuring cup, always at your fingertips.

✔ Long-Lasting Fragrance: Revel in up to 12 weeks of continuous cherry blossom fragrance, ensuring your clothes are enveloped in the irresistible allure of spring.

✔ Simple Application: Elevate your laundry experience by placing the fragrance booster pearls directly into the empty drum before loading your laundry - it's that easy!

✔ The Perfect Pair - Cosmeau Laundry Strips: Achieve a truly plastic-free wash by combining our fragrance booster with Cosmeau laundry strips - a sustainable laundry power duo.

✔ Customizable Fragrance Intensity: Take control of your scent journey by adjusting the amount of fragrance booster, tailoring it to suit your unique preferences.

✔ Embrace Plastic-Free Packaging: At re:gn, we are committed to a greener future - our fragrance booster comes in eco-friendly packaging, without any unnecessary plastic.

How it Works - Unveiling the Enchantment:
With every step you take and every movement you make, the friction between your clothes awakens the retained micro-scent capsules in our fragrance booster. Witness the magic of cherry blossom scent come to life, leaving you with an irresistible aura of freshness that lasts.

Discover a laundry experience like never before with Cosmeau's Eco-Friendly Fragrance Booster, available exclusively through re:gn. Embrace the embrace of cherry blossoms and let their essence accompany you on every laundry journey.

re:gn - Your Gateway to Greener Living, One Cherry Blossom Scent at a Time.