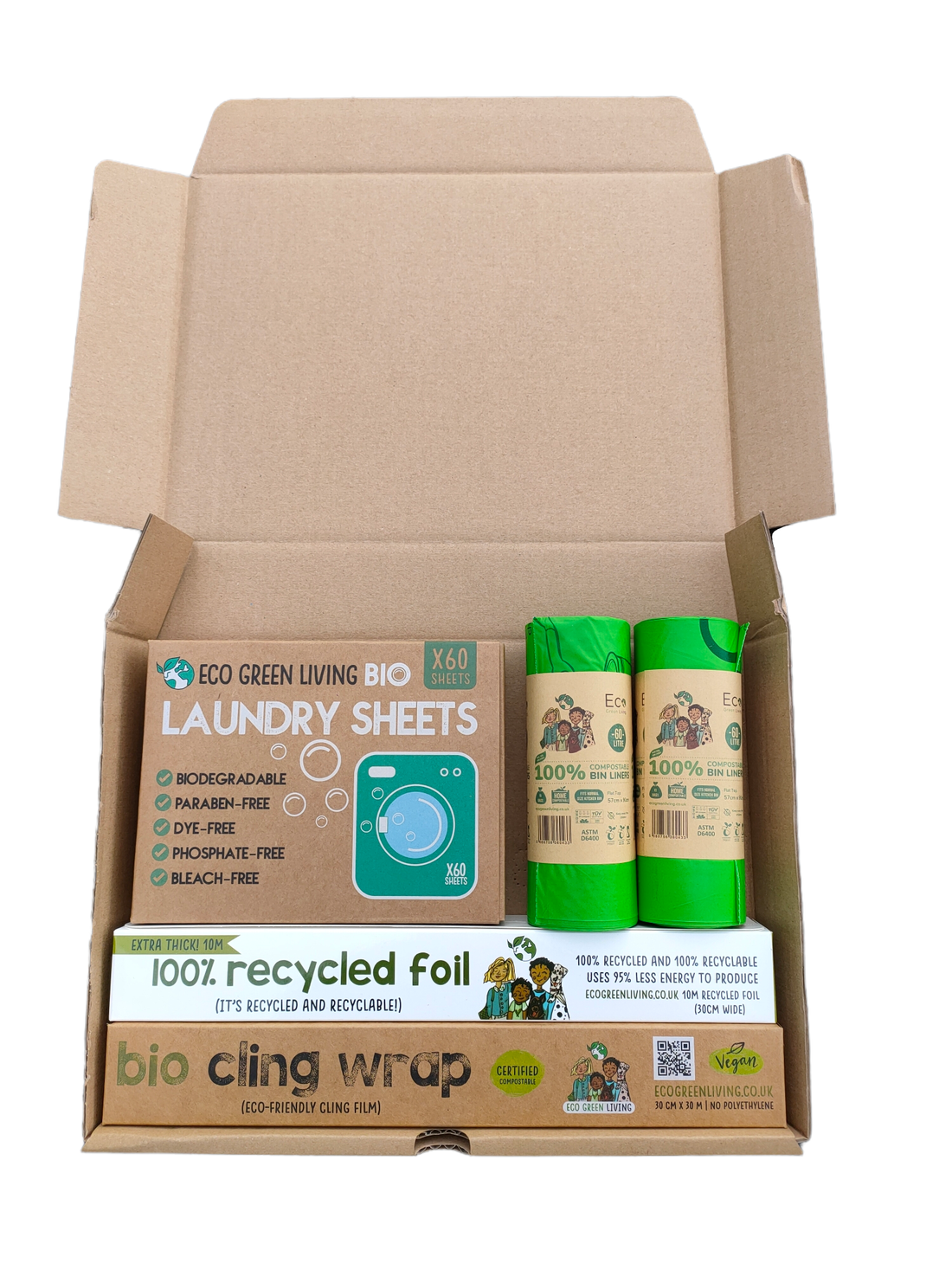 Premium Eco Kitchen Swap Out Pack
Introducing Our Eco Essentials Kitchen Box - Elevate Your Kitchen, Embrace Sustainability!

Give your customers the power to transform their kitchen with our all-in-one Eco Essentials Kitchen Box. It's time to make the switch to eco-friendly alternatives, and we've curated the perfect set to kickstart their sustainable journey.

LAUNDRY SHEETS: Small but mighty, our laundry sheets are tough on stains yet gentle on clothes. With no need for fabric softener, they leave clothes irresistibly soft. Embrace a greener laundry routine without compromising on cleanliness and comfort.

BIN LINERS: Say goodbye to traditional plastics with our compostable bin bags. Strengthened & lightweight, these 25-micron thick bags are completely compostable, ensuring a cleaner environment. Measuring 114cm around and 87cm long, they fit 30L, 40L, and 60L bins with ease.

CLING FILM: Our Eco Green Living Biodegradable Wrapping is crafted from Corn Starch, certified compostable to EN13432 & ASTM D6400 standards. Free from microplastics, it's an eco-safe alternative to conventional cling film, keeping food fresh while reducing your ecological footprint.

TIN FOIL: Discover the power of our recycled tin foil. With each roll containing 30cm x 10m of heavy-duty foil, it takes 95% less energy to produce. Made from post-consumer materials, it eliminates energy usage in aluminum extraction, making it a sustainable and practical choice.

Give your customers the gift of sustainability with our Eco Essentials Kitchen Box. A seamless transition to eco-friendly living awaits, where quality meets responsibility. Join the movement today and embrace a greener, more mindful kitchen experience.