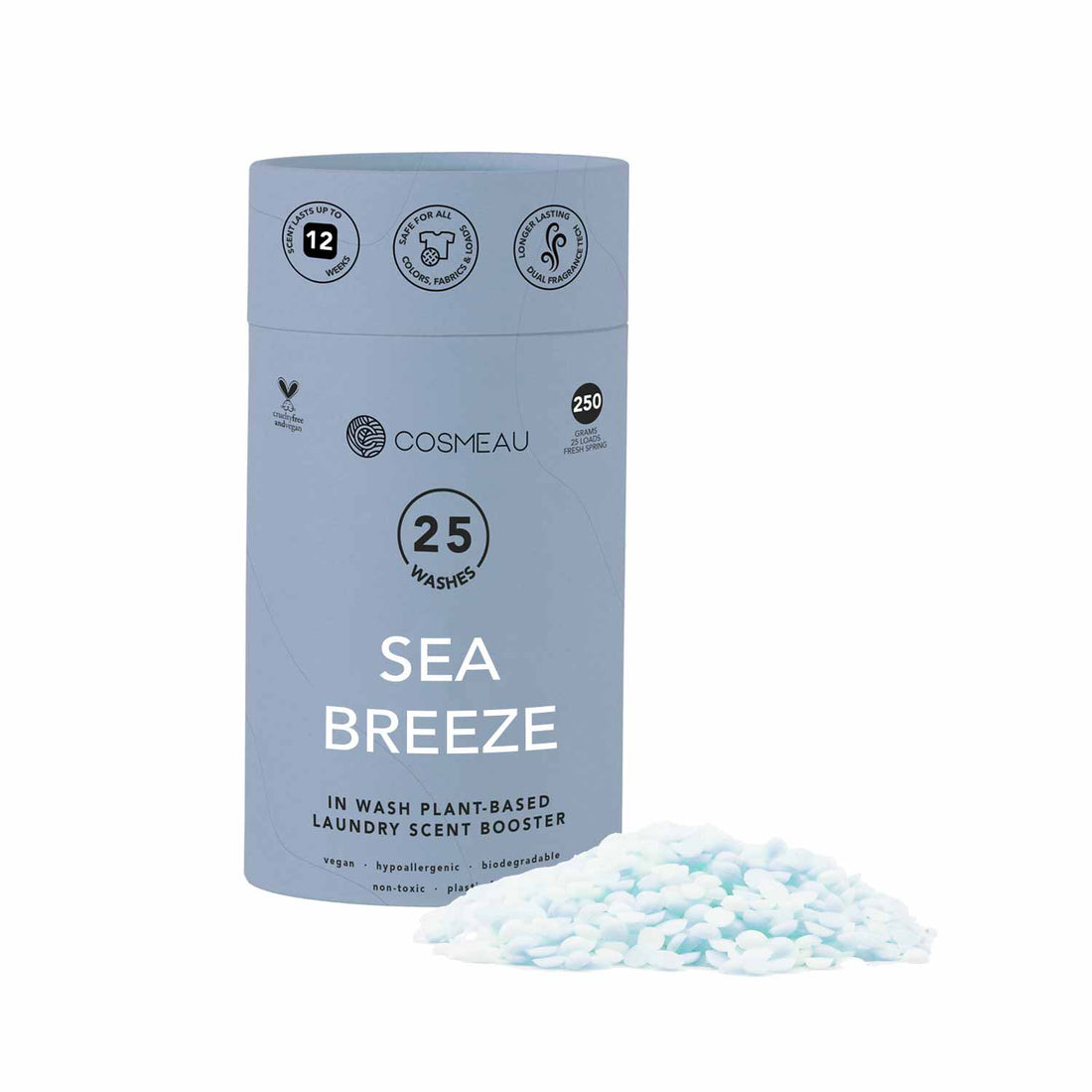 Laundry Scent Booster - Sea Breeze
"Experience Nature's Spring-Fresh Scent with Cosmeau's Eco-Friendly Fragrance Booster - Up to 12 Weeks of Unforgettable Fragrance!"

Transform your laundry routine into a blissful aromatic journey with Cosmeau's Environmentally Friendly Fragrance Booster - a true ode to nature's invigorating scents! Unleash the power of our revolutionary dual-fragrance technique, delivering up to 12 weeks of captivating fragrance that lingers with every movement of your clothing. Whether you're walking or exercising, our fragrance booster's retained micro-scent capsules burst open, creating an enchanting aroma that uplifts your senses.

Key Features:
✔ In-Wash Fragrance Booster: Elevate your laundry experience with our innovative in-wash fragrance booster, designed to infuse your clothes with a refreshing spring-fresh scent.

✔ Nature's Best: Crafted from corn starch and entirely vegan, our fragrance booster is a testament to our commitment to environmental well-being.

✔ Measuring Made Easy: Each bottle comes with a convenient measuring cup in the cap, ensuring precise dosage for the perfect fragrance enhancement.

✔ Long-Lasting Fragrance: Enjoy up to 12 weeks of continuous, nature-inspired fragrance, enveloping you in a sensory symphony that lasts.

✔ Simple Application: Enhance your laundry routine effortlessly by placing the fragrance booster pearls directly into the empty drum before loading your laundry.

✔ The Power of Partnership: Pair our fragrance booster with Cosmeau laundry strips for a truly plastic-free wash, fostering a cleaner planet for generations to come.

✔ Customizable Aromas: Tailor the fragrance intensity to your liking by selecting the amount of fragrance booster you wish to use - a truly personalized experience.

✔ Sustainable Packaging: Say no to unnecessary plastic waste, as our fragrance booster comes in eco-friendly, plastic-free packaging.

How it Works:
Experience the magic of Cosmeau's Eco-Friendly Fragrance Booster as it infuses your clothes with the essence of spring. With every step you take or movement you make, the retained micro-scent capsules release their enchanting aroma, transporting you to a realm of natural freshness and revitalization.

Join the eco-conscious movement and let the scents of nature awaken your senses. Discover the joy of sustainable living with Cosmeau's Eco-Friendly Fragrance Booster, proudly presented by re:gn.

re:gn - Your Gateway to Greener Living, Where Fragrance Meets Sustainability.
Really nice scent
I bought all the different scents and most of them are really nice. I have not tried the lavender one yet, saving that for bedding!
Not as chemical scent as the Lenor ones!