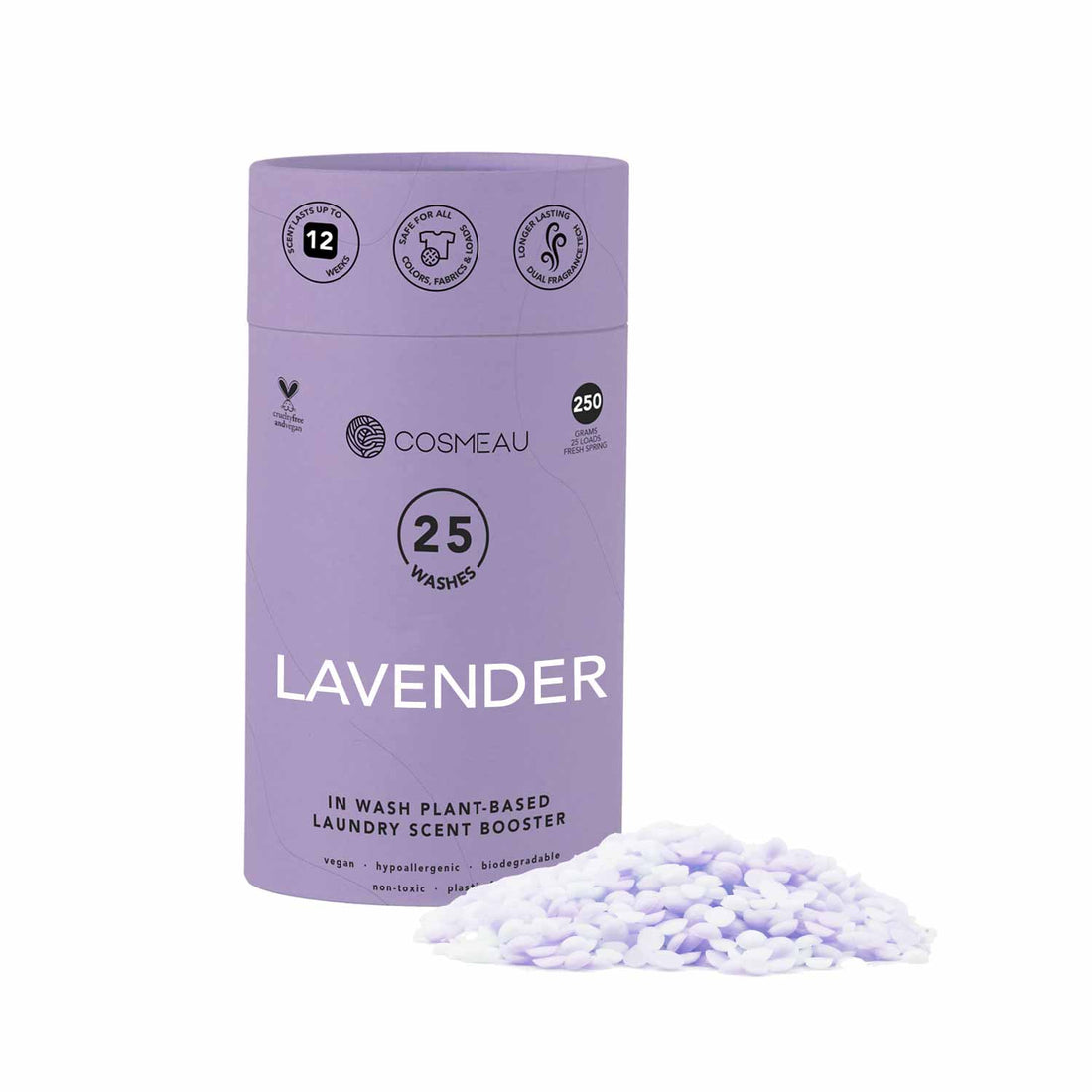 Laundry Scent Booster - Lavender
"Discover Endless Spring-Fresh Fragrance with Cosmeau's Eco-Friendly Fragrance Booster - Elevate Your Laundry Experience with re:gn!"

Transform your laundry routine into a captivating sensory journey with Cosmeau's Environmentally Friendly Fragrance Booster, exclusively brought to you by re:gn. Crafted with the planet in mind, this fragrance booster boasts an unforgettable spring-fresh scent that will leave you enchanted with every wear. Get ready to indulge in up to 12 weeks of delightful fragrance, thanks to our innovative dual-fragrance technique. The retained micro-scent capsules burst open during clothing friction, like walking or exercise, releasing a burst of freshness that lasts.

Key Features for a Greener Lifestyle:
✔ In-Wash Fragrance Booster: Elevate your laundry game with our in-wash fragrance booster, designed to infuse your clothes with a mesmerizing spring-fresh aroma.

✔ Sustainable Ingredients: Embrace a more eco-conscious lifestyle with confidence, as our fragrance booster is made from corn starch and is entirely vegan.

✔ Convenient Measuring Cup: Enjoy precise dosing with ease, as each bottle includes a measuring cup thoughtfully tucked into the cap.

✔ Long-Lasting Fragrance: Bask in up to 12 weeks of continuous fragrance, ensuring your clothes exude spring-freshness every time you wear them.

✔ Simple Application: Effortlessly enhance your laundry experience by adding the fragrance booster pearls directly into the empty drum before loading your clothes.

✔ Perfect Complement to Cosmeau Laundry Strips: Reinforce your commitment to sustainability by pairing our fragrance booster with Cosmeau laundry strips for a truly plastic-free wash.

✔ Customize Your Experience: Tailor the fragrance intensity to your preference by adjusting the amount of fragrance booster you use - putting you in control of your scent journey.

✔ Eco-Conscious Packaging: At re:gn, we believe in a plastic-free future. Rest easy, knowing our fragrance booster comes with no unnecessary plastic packaging, setting a new standard for sustainability.

How it Works - Embrace the Magic of Freshness:
As you walk or exercise, the friction between your clothes activates the retained micro-scent capsules in our fragrance booster, unveiling the enchanting spring-fresh aroma. This delightful burst of freshness will accompany you throughout your day, enhancing your spirits and leaving a trail of allure.

Make laundry a delightful experience with Cosmeau's Eco-Friendly Fragrance Booster, exclusively brought to you by re:gn. Elevate your senses and embrace the essence of spring with every wash.

re:gn - Your Gateway to Greener Living, One Fresh Scent at a Time.