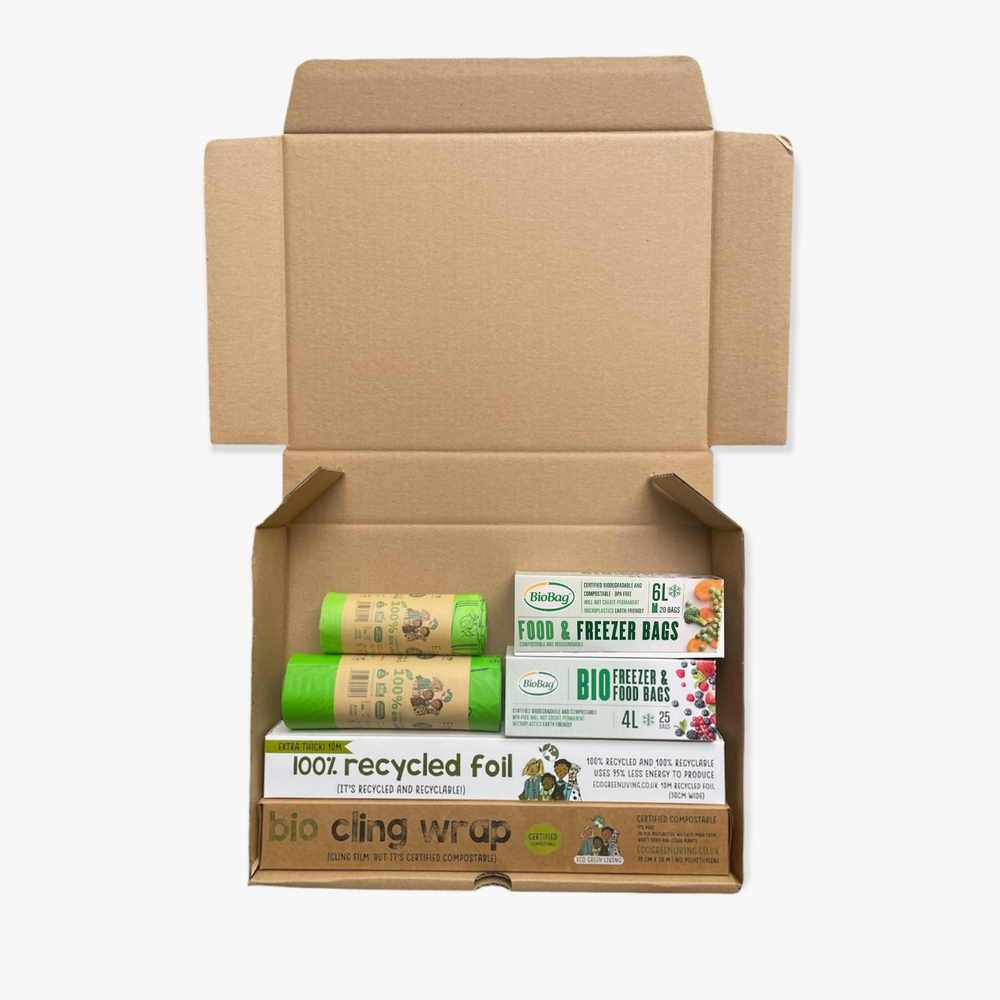 Essentials Kitchen Swap Out Pack
Introducing Our Eco Essentials Kitchen Box - Your Complete Eco-Friendly Kitchen Solution!

Offer your customers the opportunity to embrace sustainable living with our all-in-one Eco Essentials Kitchen Box. This thoughtfully curated set includes everything they need to swap their kitchen essentials for eco-friendly alternatives.

BIN LINERS (60 Litre and 10 Litre): Our durable garbage bags are both strengthened and lightweight, ensuring a reliable and eco-conscious solution. The pack includes 60 Litre bags for kitchen bins and 10 litre bags for food caddies. Completely compostable, they contribute to a cleaner environment with every use.

FREEZER BAGS (2 Litre and 4 Litre): Crafted from completely natural plant-based and renewable resources, our food storage bags compost without leaving any harmful residues. Embrace a greener way of preserving food with these compostable and planet-friendly freezer bags.

CLING FILM: Eco Green Living Biodegradable Wrapping is made from Corn Starch, certified compostable to EN13432 & ASTM D6400 standards. With no microplastics, it offers an eco-safe and effective alternative to traditional cling film, keeping your food fresh and the environment cleaner.

TIN FOIL: Our roll contains 30cm x 10m of thick recycled tin foil, providing a durable and sustainable solution for various kitchen needs.

Make the conscious choice and switch to eco-friendly alternatives with our Eco Essentials Kitchen Box. Embrace sustainability without compromising on quality or convenience. Elevate your kitchen experience with eco-conscious products that protect the planet and inspire a brighter future for all.